The phenomenon of brunching has enjoyed meteoric success in the past few years, no doubt influenced by the simultaneous proliferation of Instagram. But, whilst Barcelona boasts innumerable memorable places for a late morning munch, none can compare to Sailing Experience's light brunch and sailing expedition. Build a healthy appetite as you sail out of Port Vell and break your fast in style, aboard a 12-meter sailing yacht.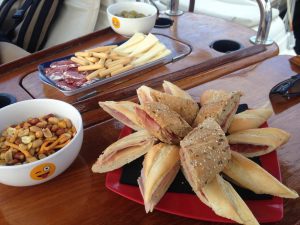 Port Vell is an oasis of calm in the midst of herds of people heading to and from Barceloneta beach. Who hasn't gazed enviously at the lines of impossibly white yachts floating serenely in the harbour as they amble past? Sailing Experience offers you an unmissable opportunity to join the seafarers in their natural habitat, and discover the joys of sailing (without any of the hardship) for yourself!
Whilst the sun rises above the tranquil Mediterranean sea, you can sip a refreshing glass of cava and nibble on the light brunch spread. A mixture of freshly baked bread – buttered Spanish-style by rubbing with tomatoes – jamon and local manchego cheese await you on the deck table. You will be spoiled for choice by a fridge well-stocked with beer, soft drinks and sparkling cava. Moreover, nuts and olives are also on offer, and will help keep you satisfied during your two-hour morning cruise.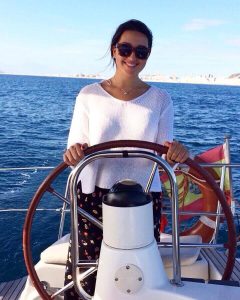 Throughout your voyage, you will not have to lift a single finger as the sailing itself is taken care of by the amicable skipper Martin. As you sit back and enjoy the sights of Barceloneta, appreciated from a whole new perspective, Martin will steady your course and serve your drinks. Of course, you can still take a turn behind the wheel if you fancy a taste of directing a ship at full sail (and makes for a great photo too!).
For a rustic, homemade brunch with a spectacular and an unbeatable view of the Barcelona coastline, Sailing Experience Barcelona has everything you could desire or need. The only energy you'll exert during the trip is choosing which snack to eat next and angling for the best possible photograph of you and your loved ones. This cathartic and unique experience of relaxation and pleasure is unmissable and an exceptional opportunity.