Having opened in 1984, L'Olivé has certainly stood the test of time, attesting to its sheer excellence and ability to please Barcelona's trendiest locals and visitors. Over the years it has transformed into a city favourite, especially since its recent renovation, making it one of the most popular spots in the chic Eixample district. Its plush interior, which successfully combines traditional and contemporary decor, is the perfect place to enjoy a special dinner in the heart of the Catalan capital.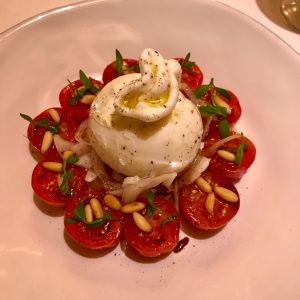 L'Olivé's central concept focuses on authentic recipes, whilst creating simple, flavoursome and beautiful food. Their menu blends traditional dishes and ingredients, such as pan con tomate and homemade 'bellota' ham croquettes with more contemporary, international cuisine. Kick things off with one of their many sharing, tapas-style starters which will tantalise your taste buds for the rest of your meal. From esqueixada de bacalao (salted cold served with kalamata olives), a Catalan staple, to their perfectly tender and marinated octopus served with crispy pork and creamy parmentier.
Their delicious and expansive assortment of entrées, including galician seafood, tartars, house rice, fish and meat dishes, are perhaps more costly than your average dinner in the city, however we can ensure you that every bite is worth those extra pennies. Their exquisite range of fresh Mediterranean flavours, vibrant coloured dishes and seasonal produce certainly trump their competitors in the upmarket Eixample area. Not to mention, their desserts are simply out of this world, in particular their hazelnut chocolate coulant – a warming and delicious explosion of nutty, cocoa flavours. We also recommend their wild strawberry mille-feuille, which resembles those sold in a Parisian bakery with its delicate flavours and meticulous presentation.
That said, no meal is complete without a fine wine as an accompaniment. Following the relaunch of L'Olivé, they introduced an entirely new wine list featuring some of the world's best vintages, sold by the bottle and by the glass. Whilst their international selection of fine wines will please those in search of a taste of home, L'Olivé also boasts some of Catalonia's most exclusive bottles, largely from the renowned Priorat region.
However, perhaps one of the most beloved qualities of this restaurant is its plush dining area. With all customers having to pass the open kitchen to access the seating area, guests are able to see the talented chefs beavering away. The elegant seating area creates a sophisticated vibe without being ostentatious, whilst maintaining a cosy and welcoming feel to it. L'Olivé certainly ticks all the boxes for an exceptional gastronomic experience with that special loved one or a family occasion.