Barcelona may boast thousands of tapas restaurants, but when it comes to Oriental cuisine the city's offerings are limited. Indeed, locating quality Indian food in Barcelona, serving authentic dishes from the subcontinent is like looking for a needle in a haystack! Fortunately for us all, Bembì in the Eixample district is here to fill this void, and introduce Barcelona's residents to the pleasures of modern Asian recipes.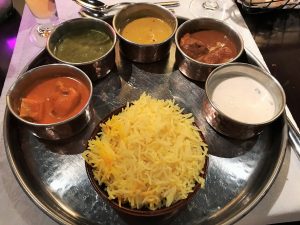 Step into Bembì's inviting restaurant and find yourself transported from the heart of Catalonia to Mumbai itself. Strategic decoration using colours and motifs from India create this illusion, and offer a beautiful setting in which to enjoy the best Indian food in Barcelona. Choose either the extremely popular tasting menu, which provides a feast of different small plates to sample, or a combination of starters, mains and sides. Vegetarians will be relieved to see that the tasting menu may be ordered without meat and that there are plenty of vegetable curries available too. What's more, the friendly waiters are more than willing to explain any names that you haven't heard of and give their own recommendations and personal favourites.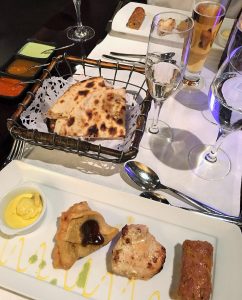 Bembì's chef has more than a decade of cooking experience in both London and India so you can rest assured that whatever you choose from the menu, it will be exquisite. There are certain plates which particularly stand out however, and attest to the distinguished skills and expertise of the restaurant's kitchen. One such example is the Lasooni Murgh Tikka, a tender chicken fillet, marinated in yogurt and garlic, and then roasted with tandoori spices. Alternatively, the Kohe Roganjosh tempts you with braised lamb, cooked in sun dried ginger, tomatoes and chilli – a Kashmiri specialty. Similar to tapas, Indian fare is typically shared between a group and the advantages of trying multiple flavours and spices is instantly apparent.
Anyone accustomed to eating Indian food will be delighted to see all their usual favourites also on Bembì's menu. Punjabi samosas (crispy vegetable triangles stuffed with peas and potatoes) and onion bhajis (deep fried spicy onion, similar to a fritter) are traditional accompaniments to any Indian meal, and Bembì prides themselves on their traditional fare. Also served with the taster menu are different varieties of naan bread, including sweet peshwari naan with coconut or a hot, garlic version (if you're feeling brave!). For those with a sweet tooth, try the sweet lassi which blends yoghurt and spices into a delicious beverage, similar to a smoothie.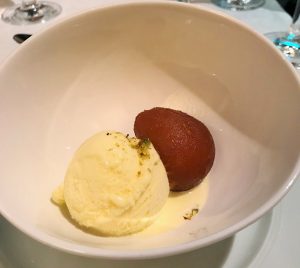 Every option on Bembì's long and diverse menu offers authentic cuisine from disparate regions of India. Each dish also arrives with stylistic presentation and a plethora of sauce flavours, colours and levels of spiciness. For a break from the monotony of tapas and a chance to sample authentic Indian food in Barcelona, try Bembì.