Looking for a day trip from Barcelona to take your kids to?  Search no more!  Located at the nearby Costa Daurada is the PortAventura Resort.  Full of action-packed rides, thrilling shows, delicious restaurants and shops of all kinds, PortAventura Resort has something for everyone in the family.
A park, huh?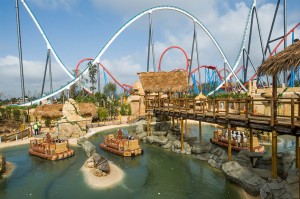 PortAventura Resort is made up of a few different areas, the primary one being the PortAventura park.  This amusement park has six themed areas for you to enjoy, those being Mediterránia, Polynesia, China, Mexico, Far West, and SésamoAventura.  In the Mediterránia section, visitors can enjoy the most enchanting locations on the Mediterranean through rides like the Furius Baco.  Polynesia's tropical jungle will entrance you with its Tutuki Splash and Kontiki rides, as well as its wild-themed shows.  The China section takes you back to ancient China through electrifying rides such as the Shambhala and Dragon Khan rollercoasters.  Mexico's festive atmosphere is shown in its section of the park through the Yucatán and El Diablo rides.  The Far West shows the Wild West American towns with cowboys galore, with rides like the Buffalo Rodeo and Silver River Flume.  Finally, the younger children of the family will enjoy the SésamoAventura part of PortAventura, as the inhabitants of Sesame Street come to life and perform on stage!  With such a large variety of sections in the park, there is something of interest for everyone.
What else is there?
In addition to having the PortAventura amusement park, PortAventura Resort includes the PortAventura Caribe Aquatic Park.  Perfect for cooling off on those hot days, this water park is full of huge water slides, a wave pool, multiple beach spots, and small pools for the young ones!  After you're done with the park, why not go to the Cirque du Soleil, a Canadian circus partnered with the park?  Also nearby to the park is a golf course for the sportspeople out there, with 45 holes over 3 courses.  In Costa Daurada, there is so much going on you won't ever have an opportunity to be bored!
Where do I stay?
Luckily for you, there are several four and five-star hotels surrounding the immediate area of the park, so staying nearby isn't an issue at all.  To look at the available hotels, visit the hotels section of the PortAventura website.
How can I get there?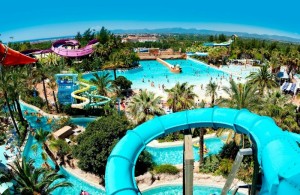 There are a couple different ways to get to the PortAventura Resort from Barcelona.  If you are driving by car, it is about an hour and a half trip by C-32 and AP-7, and is a fairly straightforward drive.  If you don't own or have access to a car, there is also an express train from Estación de Barcelona Sants that takes about the same time.  Either way, getting from Barcelona to PortAventura is a cinch.
I'm convinced, where do I buy tickets?
To purchase tickets to the park, and for more general information, visit the PortAventura website.  And remember, have fun!