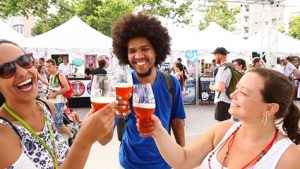 Set amidst a backdrop of modern landscape elements and play structures, The Fira del Poblenou returns to Poblenou Park this July for its sixth year, welcoming more than 25,000 visitors. Barcelona's top craft beer fair will present over 200 different varieties of beer from July 7-9.
The main attribute of the fair is that the producers of the beer themselves are the ones who attend the fair and explain the manufacturing and production of their products, with the objective of bringing quality beer to attendees and promoting the local product. New this year is the introduction of a "brew pub" area, which features bars that produce their beer in the very same place where they serve it. Within this sector, there will be five featured breweries – Black Lab, Garage, NaparBCN, BarnaBrew and Brewpub Le Sec.
Each year, one brewery is featured and produces a special beer that can only be tasted during the three days of the fair. This year the honour goes to Mala Guissona, of Euskadi, in collaboration with Free Lions of Italy.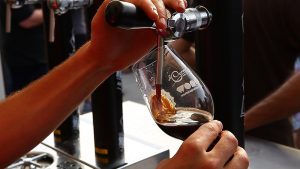 The awards ceremony of the III National Championship of Beers recognises the best commercially produced beers in Spain. This takes place on Saturday July 8th. Last year, this award was presented to around 180 different beers.
In addition to beer, the fair will feature a variety of gastronomical experiences, with representations from 12 food trucks including Muns, Reina Croqueta, The Big Whim, Mosquito, Masala 73, Pulponeta, Eureka , Sambarilove, Mondongo, Pimienta Negra, Fuxia and Balius. Furthermore, the fair offers talks and conferences aimed at professionals of the sector, presentations by master brewers and experts, beer tastings, musical performances and DJ session by Miguelito Superstar of the Tony Manero Foundation.