If you're after an authentic Spanish experience whilst you're here in Barcelona, Pinxtos is a must. Pinxtos are typical of the basque region which are similar to tapas, but each individual Pinxto is spiked with a cocktail stick and often served on piece of bread, you may say Pinxtos is similar to an English buffet but a lot yummier and a lot more Spanish, you wont be seeing any egg and cress sandwiches lets put it that way!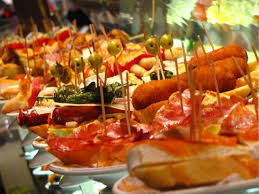 A whole street is dedicated to Pinxtos bars in Barcelona which is Calle Blai in Poble Sec, just up from Parall-el or Poble Sec metro stop. This street runs for nearly 500 metres and is lined with quaint Pinxtos bars all offering delicious Pinxtos and cheap drinks. Pinxtos is perfect any time of day, for lunch, dinner or a daytime snack, with most of the bars having terraces its easy enough to sit there for hours with a constant supply of delicious tapas surrounded by friends and family. What's even better is that the Pinxtos themselves often are no more than €2, with the standard price being €1, so they wont break the bank meaning you can definitely try all the ones that take your fancy. The kinds of foods you can expect are definitely all things Spanish such as cold cuts of meat, olives, cheese, spicy sausages and Spanish omelette.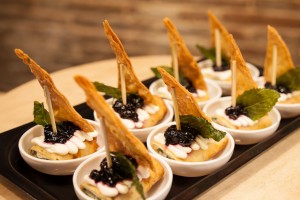 Blai Tonight, La Tasqueta de Blai and Blai 9 are bars along Calle Blai which offer gorgeous Mediterranean Pinxtos in beautiful quaint Spanish settings. Blai 9 gets creative with its Pinxtos teaming chorizo with potato pancakes, quail eggs and filled crepes and pitta breads, with all tapas priced at €1 to €1.50. Blai 9 also offers great daily deals, on Mojito Mondays they give one free tapas with every mojito ordered, on Tuesday they'll give you two free tapas with every litre of Sangria and on Sundays their traditional Vermouth is on offer for just €1.50 or try their award winning wine for just €2.50 a glass.
Just off Calle Blai is the infamous and long standing Quimet I Quimet tapas bar located on Carrer del Poeta Cabanyes, this traditional family run tapas bar has already been run by four generations and is a popular destination for Pinxtros. With only two tables Quim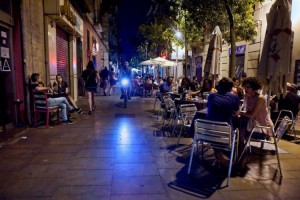 et i Quimet is always crammed with people and a favourite among the locals and its not hard to see why; a tiny wine cellar filled with character and a great atmosphere is the perfect place to to experience traditional Spanish Pinxtros. Quimet i Quimet's popular dishes include croquettes, lots of cheese and fresh vegetables. Being a wine cellar they have a huge array of drinks of offer, delicious wines, cava's, vermouth and even liqueurs to enjoy along side your Pinxtros.
So if you want an authentic and cheap Spanish experience head to Calle Blai and gorge yourself on Pintxos.