Barcelona is famed for its wealth of prime brunch destinations. That said, it can be overwhelming for foodies visiting the Catalan capital to select the ultimate brunching spot. If in doubt, look no further than Picnic – a charming spot, nestled amongst the winding, labyrinth streets of the picturesque and quaint El Born neighbourhood. One of the city's most beloved breakfast-lunch eateries, it boasts deliciously tasty, homemade cooking with international influences. Picnic is a faultless choice to kick-start your day, before a post-brunch stroll in the nearby Parc de la Ciutadella.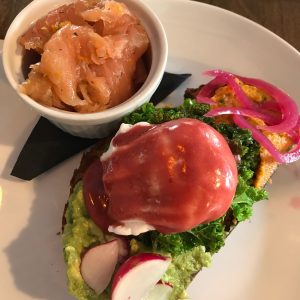 Serving brunch on weekends from 11.30am to 5pm, diners can indulge in Picnic's exquisite selection of sweet and savoury dishes, after a well-deserved lie in. Whilst you peruse the menu, sip on one of their morning cocktails, whether its a seasonal bellini or the quintessential mimosa or bloody mary. Whether you're battling a hangover or simply looking to begin your morning with a bang, you can rest assured that one of their tempting concoctions will do the trick. However, if it's too soon to adopt Spain's penchant for day drinking, they serve a delightful freshly squeezed orange juice that'll revitalise you instantly.
Priding themselves on a menu that breaks the traditional brunch mould of eggs and pastries, at Picnic you can enjoy ingenious twists on established breakfast dishes, like the American classic of Eggs Benedict. Their unique addition of beetroot to the iconic hollandaise sauce not only emphasises their innovative abilities, but furthermore the restaurant's willingness to experiment with unorthodox colours, flavours and ingredients.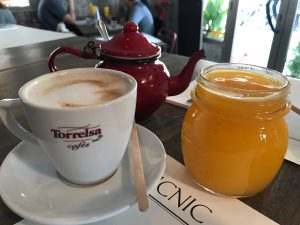 Picnic simultaneously ensures that their fare does not derail your commitment to healthy eating – a common concern when eating out. Whilst their menu includes staple brunch greens such as avocado and spinach, it also features other nutritious foods – less commonly eaten before noon. Kale, radishes, green beans and cashew nuts are just some of the delicious healthy additions to their brunch offerings, that will leave you feeling energised for the rest of the day.
However, one of the most beloved qualities about this Barcelona brunch gem is its modesty. Unpretentious in its character, style and service, Picnic remains true to itself by focusing on high-quality, local and seasonal ingredients at inexpensive prices. What's more, its minimalist decor provides the perfect brunch setting, and of course the impeccable Instagram-worthy presentation of Picnic's food is reason enough to visit Picnic.