As a continuation from the article posted about keeping fit in the outdoors this summer, a special focus definitely needs to be placed on the incredible opportunity to practice yoga beach-side this summer. The fabulous 4km of golden coastline that Barcelona has to offer is used for all sorts of fantastic outdoor activities; from cycling, skateboarding and rollerblading, to running, walking and beach workouts. However, one of the magical hidden gems that this city has to offer is the beautifully located practice of yoga, with a view of the Mediterranean glistening right out in front of you.
Yoga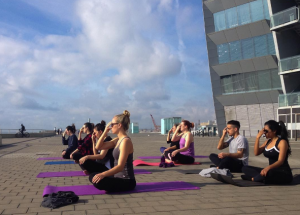 Having tried and tested a few different classes myself, the most inspiring, encouraging and uplifting teacher is the Australian-born Stacey, whos offers a variety of different classes throughout the week, both in her studio in the Gothic (Calle dels lledo 13) and on the platform behind the W Hotel on Barceloneta beach. Her practice is energetic, creative and warming, always starting and ending the class with a dedication to the day's practice, and a message to think about throughout. Whether dedicating the class to someone you love, or offering gratitude to mother earth and the sun, the teaching is always vibrant, refreshening and heartening.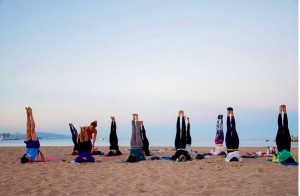 Stacey offers a fun and dynamic class of Hatha Vinyasa yoga. Classes cost 5€ for 90 minutes, and are taught entirely in English. All levels are welcome, whether you are a complete first timer or have been practicing yoga for years. As she so often mentions – in yoga, everyone is a beginner and everyone is a teacher, you are always learning more and deepening your practice through experience with others. The weekly Sunday class at 10am behind the W Hotel is a magical and unique way to start your Sunday, feeling refreshed, awake and energised for the rest of your weekend, whilst enjoying the sun warming up on your back. Stacey also often teaches a class on Wednesday at 7pm in the same location; practicing yoga to the sun setting behind you is an enchanting way to spend an evening.
Yoga has played a role in Stacey's life since 2007. Having noticed the positive physical, mental and spiritual effects that yoga had on her, she decided to commit to a 200 hour training course in Goa, India. The training was primarily based on Hatha, with focus on classical pranayama, classical asana and classical vinyasa. Over the past 11 years her yoga journey includes the practices of Power, Hatha, Vinyasa, Iyengar, Anusara, Jivamukti and Ashtanga. She firmly believes that by using 'breath, body and mind to work together we can deepen our connection and experience'. Yoga can give you a simple strength and focus on 'finding your way', something that is well worth a try.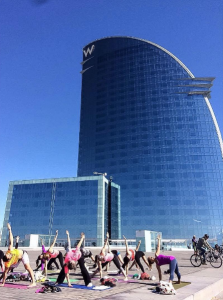 Classes and information 
Tuesdays & Thursdays 7:30-9pm, Calle del lledo 13
Wednesday 7-8:30pm, behind the W Hotel (class subject to demand, check Instagram to keep updated)
Sunday 10-11:30am, behind the W Hotel
Follow Stacey on Instagram to keep up to date with class times and locations, with fantastic photos and quotations offering a daily dose of yogic inspiration.