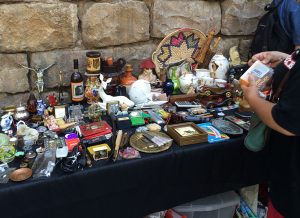 If you get off the metro at Drassanes (L3) and turn to walk right, away from the hustle and bustle of La Rambla into Carrer de Portal de Santa Madrona, every second Sunday of the month you will find yourself in a real life fairyland.
Sellers of all ages gather to sell their things: from authentic vintage designer handbags, to old roller blades, FCB merchandise, new clothes, old clothes, fur, leather and a lot of Levi's denim. There are toys, bric-a-brac, sunglasses for every face shape, pretty and tacky crockery and carefully organised vinyls. You'll also find hundreds of old cameras and video recorders as well as Gameboys, Nintendos and PlayStation games.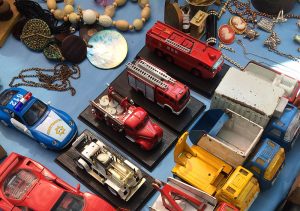 The flea market's mantra is 'One man's garbage is another man's gold'; sellers are willing to barter although most of the items are already so well priced you do not really need to. This market is well worth a visit or two, depending on how long is your stay in Barcelona. The market is hugely popular with both locals and tourists.
When: Every 2nd Sunday of the month, 10am – 8pm
Where: Plaça de Blanquerna
Metro: Drassanes