Born in the province of Andalusia, the passionate and seductive art of flamenco has a history in Barcelona that spans almost two centuries. It is widely considered intrinsic to Catalan heritage, and Barcelona consequently takes prime position on the international flamenco circuit. But, for a taste of this ardent form of dance in all its rhythmic intensity, a visit to Tablao Flamenco Cordobés is unparalleled. Enjoy the raw and emotional power of this disciplined art form with their dinner and tapas show, to experience Spanish culture in all its glory.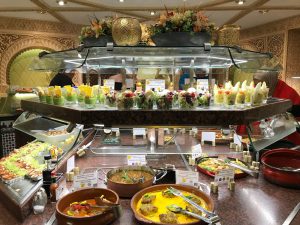 Having opened in 1970, before Barcelona used to receive a daily influx of tourists, you can be sure that Tablao Flamenco Cordobés is dedicated to its trade rather than simply a tourist gimmick. They have welcomed numerous flamenco legends over the years, from the superbly talented Farruco to the iconic Eva Yerbabuena. It's no wonder this place frequently features in Barcelona's top things to do, thanks to its long standing success and acclaim among tourists and locals alike.
Begin your evening with an optional dinner in their ornate dining area, which mimics the baroque style of the emblematic Alhambra in Granada. Their expansive selection of hot and cold Mediterranean specialities is nothing short of impressive. From regional favourites to pintxos (property of the Basque region), their diverse buffet offers the opportunity to sample typical Spanish cuisine. All dishes are prepared using fresh and locally sourced ingredients, which adds to the authenticity of the experience. Their shellfish paella comes highly recommended, especially when accompanied by a glass of their house white. Speaking of alcohol, ensure to take full advantage of the unlimited drinks provided throughout the dinner and show. From your welcome sangria to a showtime cava, Tablao Flamenco Cordobés ensures that you won't go without a drink in hand.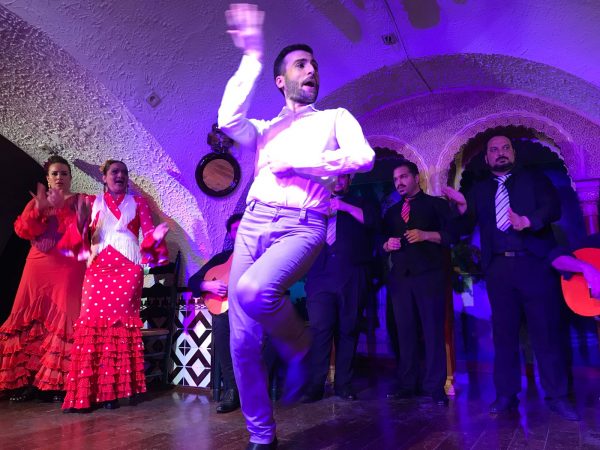 Take your place in the audience, as the flamenco artists wow you with their captivating recital of music, dance, singing and storytelling. What's more, Tablao Flamenco Cordobés' absence of technical equipment – microphones, speakers and electronic amplifiers – only adds to the vehement performances on stage, as the raw sound of the show permeates every corner of the room.
As a flamenco newbie, the distinct style of a flamenco show takes some getting used to. From the vibrant costumes and energetic dance moves to the sheer emotion of the performance, this genre is a stark contrast to your run-of-the-mill theatre performance. Rather, it is an intimate experience, with the performers and audience alike engaging in the visceral fervour onstage. In fact, closeness in all senses of the word can be used to describe flamenco, as it is traditional for the audience to be tightly packed together. So, prepare to get friendly with your neighbour as you enjoy the evening entertainment.
Whilst cameras may not be permitted during the performance (that is until the final five minutes of the show), that does not mean that Tablao Flamenco Cordobés will not provide memories to last a lifetime.