A perfect day in Barcelona begins early because as the proverb says, "the early bird catches the worm"!
At 7am, we shall begin with a quick tour of the Boqueria market next to la Rambla. It is full of colours, scents and surprises. When you go by the morning, you discover vegetables and fruits sellers.
Mercat de la Boqueria: La Rambla, 91, 08001 Barcelona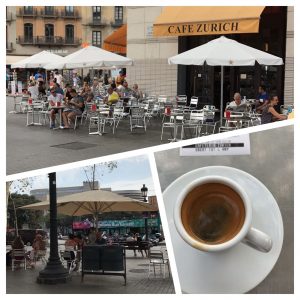 Around 8.30am, it is time to go back up la Rambla, which is at this moment still traversable. Then, at plaça Catalunya, we shall take a break at the Café Zurich, where we can enjoy a hot coffee, served with its traditional glass of water. For the ones who want to get some vitamins and energy, the natural orange juice will be perfect.
Plaça de Catalunya, 1, 08002 Barcelona
At around 1pm, we can have a great lunch in the "Ronda de la Universitat" street at Bacoa. This is a nice burger restaurant with an industrial atmosphere. The welcome is pleasant and the service, quick.
Carrer del Consell de Cent, 329, 08007 Barcelona
After these great efforts, it is high time to have a nap because after lunch time, the city works slower as it was getting ready for the night except, of course, the department store.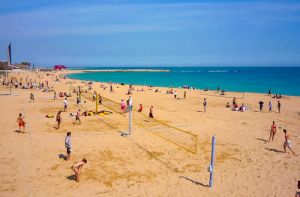 At 4pm, after a slow digestion and at a moment when the sun is weaker, a little getaway to the beach can be very refreshing. Do not go to la Barceloneta which is always busy; prefer some places like Bogatell beach or, if you feel like going further, Castelldefels or Sitges. The best way to get there is the train.
Afterwards, let's go back home to have a shower and some rest (it is holidays, isn't it?). In order to have a good dinner, it is better to make a reservation as the nice places are busier on holidays periods. If you have no idea about where to eat, you can try la plaça Reial since there are a lot of restaurants there.
After that, you can go for a drink in the Benedict bar where you can enjoy a cocktail; there is something to suit all tastes.
For the party-animals who want to have fun all night long, the clubs are numerous around the Port Olímpic.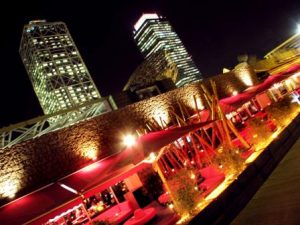 That is my perfect day in Barcelona, however, it is quite hectic. Whenever, it is possible to do it all throughout the whole stay.
Have a good time in Barcelona.