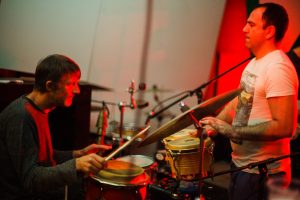 Mira, the three-day eclectic digital arts festival, is back again for it's eighth year starting on Thursday, November 8th to Saturday, November 10th.  This festival is an international event bringing hundreds of art and music fans for a full weekend of new-age expression. It will include discussions, concerts with stimulating visuals, along with grand-scale art installations.
The full program begins with conferences which discuss the festival theme, "The Search for (modern) Pleasure," where select artists of the extensive line-up will share their thoughts on their projects, the direction of digital art, and will answer any questions. Claire Tolan, an American artist currently residing in Berlin, will be presenting her role-playing and ASMR (Autonomous Sensory Meridian Response) game titled "The State of ShÜSh."
International Line-Up
After the conferences, it's time to immerse yourself in the music festival and groove and vibe with the dozens of DJs, audio-visual shows, and performances scheduled throughout each day. The artists come from all over the world, including the United States, Germany, Australia, and of course, Spain. This allows attendees to experience a taste of the international collaborative panorama. Each artist in this exquisite line-up has made their own particular contribution to the ever-changing electronic music scene.
You can also experience the installations throughout the festival.   There are two separate creations, one titled "Imaginary Limit" by Nick Verstad and Salvador Breed. The second is "Licht, Mehr Light!" by Guillaume Marmin. There will also be a 3D sound installation presented by Intorno Labs and sponsored by Son Estrella Galicia.
After-Party
Mira Festival also hosts an after-party on Saturday, November 10th at Razzmatazz. This party will close the festival with popular Berlin producer, Objekt, and local DJs Tutu, Omega III, & Djohnston. This specific party is exclusive to Mira festival attendees and tickets will be available soon!
Check out mirafestival.com to purchase single-day or multi-day festival passes, along with full program details.