For a tapas restaurant to stand out in Barcelona, it must offer something truly special that will attract and impress both tourists and locals. Llamber, located in the mod El Born restaurant, manages to excel at this difficult feat, providing a classy venue for a meal ruled by the laudable mantra of sharing. Inside, encounter a minimalist design with avante-garde suggestions, such as a wall of empty picture frames and a kitchen visible for diners through a large open cut-out. Although there is plenty to look at, your attention will no doubt be occupied by Llamber's modern concept of tapas, fusing gastronomy from across the Iberian peninsula with notable success.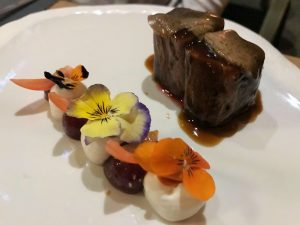 Brainchild of Asturian Francisco Heras and Catalan Eva Arbonés, Llamber brings the best of the two regions together to create a hip Barcelona restaurant, that looks and feels like an Asturian taverna. Naturally for an eatery in El Born, the restaurant boasts an impressive cocktail list and the long timber-framed bar area welcomes those with a predilection for fruit and alcohol infused concoctions. The entire front area in fact could easily be on the Costa Verde coast, with high bar stools and solid wooden tables that face out into Plaça Comercial. Throughout most of the year, al fresco dining spills out into this iconic square, offering the opportunity to sip your aperitif in the balmy Barcelona air.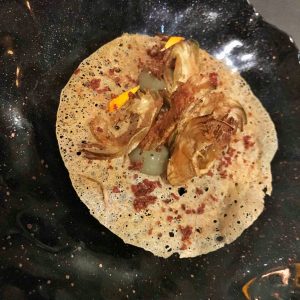 For those enticed into Llamber for a quick drink, it is virtually impossible not to stay for at least a sampling of their irresistible tapas menu. Intriguing combinations such as beetroot carpaccio with king prawns, yoghurt, raspberries, and green pistachios should be enough to pique your interest, whilst marinated sea bass with avocado and bloody Mary will have you salivating. Moreover, you may think the names alone are curious, but when you see the spectacular presentation of each plate, you will truly be in awe. Grilled fronds of artichoke, arranged in a gravity defying ring resemble the towers of the Sagrada Familia for instance, whereas the edible flowers which accompany the beef sirloin are akin to a Japanese garden display.
Not only is the cuisine unusual in its combinations and immense presentation, it is also both healthy and nutritious. Llamber is dedicated to utilising seasonal, local produce, typically buying from Barcelona's markets, and taking advantage of the locale by buying fish from the Catalan coast. Of course, this choice of ingredients improves the flavour exponentially, but it also helps small farming producers as the restaurant is part of the Slow Food community.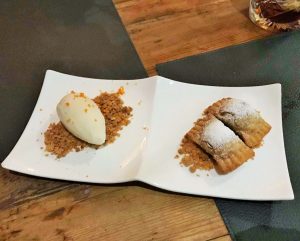 The taverna-cum-restaurant is a shining example of the endless possibilities for creating new dishes out of timeless recipes, and fully embraces the quintessentially Spanish tapas obsession. Enjoy picture-worthy food within a chic, modern environment at an innovative and endlessly experimental Barcelona establishment.