An auspicious combination of factors make Barcelona the ideal place for en plein air watercolour painting class; namely a balmy climate, a beguiling beach, and an abundance of iconic architecture. Artist Paul Raymonde and his wife Angela have taken full advantage of this, and offer a variety of courses, called "La Terraza Atico" that will acquaint you with both the Catalan capital and watercolours simultaneously.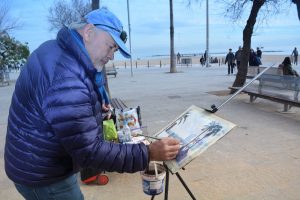 Paul has spent years analysing the secret methods of painting with watercolours, and has developed a structured approach that can be taught and applied with ease, whatever the subject matter. His extensive experience with this difficult medium allows him to administer help and advice to experienced and beginner painters alike, either to improve and develop existing skills or to instruct on the fundamentals. Unlike typical outdoor painting, La Terraza Atico embraces the urban environment and presents a rare chance to depict the colourful Mediterranean metropolis under the blue sky.
Creating a water-based masterpiece becomes incredibly easy with La Terraza Atico and if there's one thing that unites their clients, it's unanimous awe at what their own hands can produce. Within the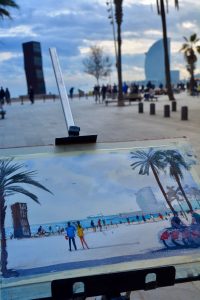 space of a few hours, your blank canvas will be transformed into a stunning representation of the city before your easel. For novices, it can be a daunting prospect, especially in a public place, but Paul's gentle and instructive method of teaching cultivates impressive results, imparted with clarity and patience.
For those who really want to immerse themselves in the medium favoured by Turner and Girtin, La Terraza Atico provide a five-day intensive course of painting tuition. For four hours each day, classes are held in key locations around the city leaving students with a portfolio of studies documenting the landmarks and monuments of Barcelona. A rounded knowledge of composition, tone and temperature is cultivated so that students can feel confident taking up their easel and rendering beautiful pictures for themselves. The course also leaves plenty of time to explore and familiarise oneself with the many famous museums and art galleries nearby.
A packed lunch is served with accompanying wine – a hard-earned snack to reward you for hours of sustained creative output! Part of the pleasure of the course, however, comes from spending time not only outside in sublime locations but also with the charming Paul and Angela, whose intimate knowledge of Barcelona provides plenty of interesting distraction from the job in hand.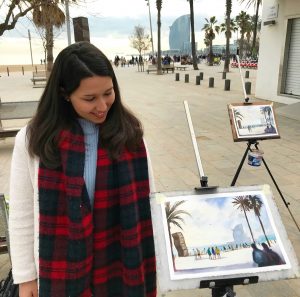 Overall, whether you want to try something totally different and amaze your family and friends with a postcard-worthy watercolour study, or if you are more interested in learning the full ensemble of skills required to paint like a pro, La Terraza Atico has something for you.