Following the remarkable success of its sister restaurants, 'Milk' and 'Marmalade', Irish owners Rebecca and Paul Coleman recently opened the fabulous bar and bistro 'Firebug'- and boy are we happy! Last week, Sara Siddeeq headed over to Passeig de Sant Joan to get the full lowdown on our favourite restaurant trio from the local legend, and extremely lovely Rebecca.
You celebrated the 10th anniversary of Milk last year, congratulations! How did it all begin for you both?
I previously worked in interior and graphic design; however, once Paul and I moved to San Francisco we both began working in the restaurant industry and absolutely loved it. We've always been big foodies and taken a great interest in all things food related, and it was at this point that we decided to open our very own restaurant. We found the States to be a little too far from home, so we decided to relocate to Europe to pursue our dream and ended up in the fabulous Barcelona, and never looked back!
Having embraced the American lifestyle for so many years, brunch had become a weekend ritual for us and something that we adored doing on a lazy Sunday morning. However, back in the early 2000s when we first moved to Barcelona, the concept of brunch was practically unheard of, so we made it our mission to officially introduce it to the Catalan capital and show them what they're missing. It certainly wasn't plain sailing and required a great deal of leg work for Barcelona to catch up with the rest of the brunch-loving world and become the now-thriving brunch scene that it is!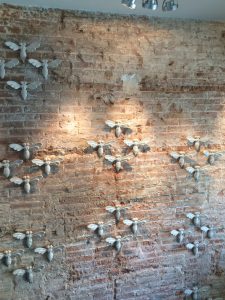 What's the story behind the name 'Firebug'?
We wanted a name that was simple, memorable and could be understood by both locals and foreigners. So after much deliberation, we brainstormed the name Firebug and I love it! We pretty much went through the same process with Milk and Marmalade- even if you don't speak English, you know what milk is and that it symbolises food and drink. Once we announced we were opening a second restaurant, everyone thought we'd go for a name like 'Toast'! We, on the other hand, weren't too keen…
How did you decide what road to go down in terms of the menu?
We decided to opt for an international menu that's essentially a collection of people's favourite dishes rather than focusing specifically on Italian or French cuisine per say. We wanted to recreate dishes that we've tried and loved over the years- food that means something to us. For example on Firebug's menu, we have the 'Mary MC's Pâté' which is a recipe that belonged to my mum, and one that I've always loved, and then the pasta dish is from my sister's restaurant in Ireland. It's important to us to include those much important personal touches, for example we also have 'Gorgeous Georgia's Banoffee' dessert, which is named after my niece.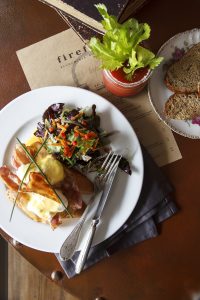 What's a favourite of yours from Firebug's menu?
I'd have to go with the 'gambas borachas' (prawns cooked with butter, garlic, white wine and served with flour tortillas), they're delicious!
And most importantly, tell me about the drinks list at Firebug!
As with Milk and Marmalade, the drinks list is as extensive as ever! It's very tricky for me to choose my favourite cocktail but if I had to I'd go with the bourbon mojito, a slight spin on the classic mojito, or the 'Nicky Lauda Saua' which never fails to go down a treat!
We also have the 'Gin division' here, which is ideal for the gin lovers amongst you, and a fantastic selection of vermouths.
How is Firebug different to Milk and Marmalade?
I mean they're all very different from one another in terms of their vibe, location, menu…they all have something unique to offer and that's what is so great. It largely depends on the restaurant location and how the building lends itself to the design. For instance, Firebug is on the corner of a beautiful, large street with plenty of light and a gorgeous outdoor terrace giving it a real daytime feel. Whereas, on the other hand, Milk is very small and quirky (in line with the bohemian vibe of the Gothic Quarter) and is similar to being in your Grandma's lounge but people love how cosy it is. And, then of course you've got the 1950's Havana/New York edge of Marmalade with its iconic bar, very similar to that of Firebug, but of course a bar of that scale wouldn't be possible in Milk with the space restrictions.
We also like to have a slightly different spin on the menu at each restaurant. Firebug focuses on sharing platters and more casual dining. We want to remove the pressure of eating out where people feel inclined to order a three course meal. At Firebug, we want people to be able to share a bottle of wine and then perhaps a tapas dish if they're feeling peckish.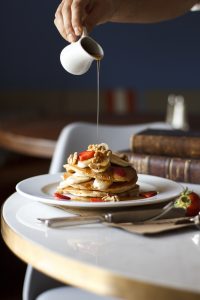 Have you noticed the city evolve over the years?
Absolutely. Barcelona has changed enormously over the past 10 years. When we first opened Milk, there was very little in the Gothic Quarter which is hard to believe with it being one of the most popular areas for bars and restaurants nowadays. We gradually noticed more and more places opening around us.
I've noticed a lot of change around here (Passeig de Sant Joan) as well, as Paul and I only live around the corner so often walk the dog along this road. Over the years, a lot of businesses have opened and there's a more varied food scene for sure which is great news. They actually also installed a bicycle lane along this road a few years ago which speaks for itself- more and more people are wanting to access this area thanks to its growing popularity.
And finally, what's next on the agenda for you and Paul?
I mean we'd definitely love to expand further. We wouldn't consider opening somewhere outside Barcelona- we did have friends that wanted to open with us outside the city but I find it very important to be close to my businesses so I can be involved with as much as possible.
For now though, I think we're just going to concentrate on finishing Firebug- we want to make the menu bigger after seeing what works and what doesn't, launch the Firebug website, promote the restaurant- there's still so many things left to do!
So there you have it, everything you could possibly need to know about Firebug! And what's more, it's conveniently located next to the idyllic Parc de la Ciutadella, the perfect place for a post-brunch stroll.