Barcelona is one of the most beautiful and unique cities in the whole of Europe. Situated on the shore of the Mediterranean, it is famous for its great cultural diversity, food, architecture, the kind-nature of its people, its beaches… the truth is, it is not extraordinary that so many people dream about going for a trip to Barcelona
It is precisely down to its unique character is different to other large cities that is very important to remember a list of fixed characteristics that allow you to plan your perfect trip to Barcelona. Is it always warm?, How much money should I bring?, Do I need an adapter charger?, Is it safe?, How can I get around the city?… Barcelona Connect resolves all your doubts and much more!
Important things to plan your trip to Barcelona
– Languages
One of the most important parts about visiting our lovely city is the fact that you have to remember, here people speak two official languages equally: Catalan and Spanish. Spanish is the common language that there is in the whole of Spain, instead, Catalan is uniquely the official in Catalunya (yet still, this language is spoken in the South of France, the Balearic Islands, Valencia and some regions in Italy).
In spite of general growth, many people in Spain speak English too (more often in the North of the country, Madrid and Barcelona), therefore, generally speaking, you would have no problem in communicating with the locals! That said, it is never too late to learn a bit of Catalan or the typical phrases that could get you out of trouble.
– Prices
Although there may be a belief that Spain is a country with a very affordable cost, the truth is that this does not occur in all parts of the territory. When it comes to Barcelona, unfortunately this is the most expensive city in Spain, so don't be surprised if prices are a bit higher than you expected. With that being said, you should take into account that, in comparison to the majority of countries in Europe, the cost of living is much more affordable, therefore you should not have any problems during your trip to Barcelona.
– Currency
The official currency in Barcelona, as in the rest of Spain, is the euro and generally no establishment would accept any other forms of currency. If you have not exchanged your currency before your trip to Barcelona then do not worry, as there are many exchange bureaus and banks spread out all over the city.
Furthermore, you should take into account that it is increasingly easy to pay with credit cards wherever, due to this it is very easy to complete any transaction, as small as it may be (some establishments have a minimum spend of €5).
– Transport
Barcelona is a city that offers a great public transport network which connects, practically, every corner of the Catalan capital. You have many options to get aroundthe Catalan capital by metro, bus, train, tram, railway, etc… Without a doubt, the best option to get around Barcelona is the "T-Casual", a single person card with 10 integrated trips to get you around Barcelona regardless of the type of transport you use. That said, remember that depending on how far from the city you stay, you may have to pay more to get to a new zone!
Other ticket options for public transport are the "Barcelona Card" where museum entries are included for you, T-día or T-grupo tickets. It all depends on how much you are going to use the tickets and which you want to visit!
– Weather
Due to being a coastal city in the south of Europe, the climate in Barcelona is usually moderate, therefore in winter it is not too cold and the temperatures are calm.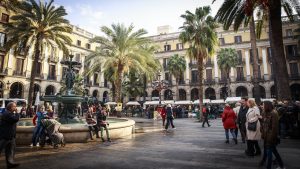 For the same reason, the heat and good weather usually arrive quickly in the city, something that makes the seasons of spring and autumn the best seasons to plan your trip to Barcelona. Furthermore, you will rarely see rain in our city, as it is more normal to rain very little but in great quantities.
– Useful information
Some important information to take into account in order to plan your trip to Barcelona is, for example, the type of plug. In this case, Spain has a usual voltage of 230V, the frequency of this is 50 Hz and the type of peg is F (There are two round holes that are horizontal and in the middle of the plug).
Another thing to remember is the fact that tap water is completely drinkable (we recommend that you always ask before drinking, usually in older buildings). Also, although tap water is not a common drink here, restaurants are obliged to give you a glass of tap water if you ask for it.
It is very important to be aware of the opening times for establishments in Barcelona, likewise for the festive days of the city. Normally, shops open at 9:00, they close in order to eat between 13:30 to 17:00, and finally, at night they close at 20:00. In the same way, you should take into consideration that many restaurant kitchens close around 16:00 until the time of evening meals.
We are delighted that you visit and enjoy our city as much as we do, in the best way possible. As well, we are sure that following this advice will allow you to prepare in the best way for your trip to Barcelona in order to get yourself around the city like a local, is there anything better? Well don't wait any longer, pack your bags and live one of the best experiences of your life on your amazing trip to Barcelona!