Unlike many of the grand hotels that line Passeig de Gracia, Hotel Omm pride themselves on integrating the local community. At the core of this endeavour is their Roca Bar restaurant, an inclusive space within the hotel's lobby which has become a popular lunch spot for Barcelona's ritzy residents. Savour top-quality cuisine in the opulence of a 5* hotel that aims to blend innovation, design, gastronomy and luxury under one roof.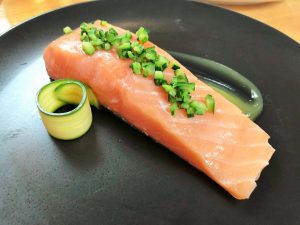 The eponymous Roca brothers oversee the Roca Bar restaurant, and ensure that the menu is filled with healthy, innovative dishes, which combine exceptional flavours with impressive presentation. There is plenty of scope for creativity, as demonstrated by their 'spicy' potatoes which are cut and fried to resemble the sweet Iberian snack, churros. Another example is their truffle brioche which are served alongside rich poultry consommé. The selection is so broad and varied that it arrives with recommendations from the chef for those struggling to make that final decision.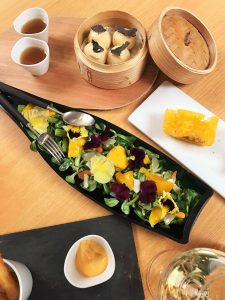 Dominating the cuisine is of course, tapas which may be shared or enjoyed as multiple main dishes. Traditional Spanish gastronomy features strongly, interspersed with some international specialties. For instance, local favourites like hand cut Iberian ham and a selection of cheeses may be juxtaposed with a vegetable wok with Korean Jaug. Various types of oysters may be ordered for those with a more adventurous palate, as can king crab legs of varying sizes. A range of different sandwiches are also available, though 'sandwich' is a loose term for options such as ox burger with beer bread.
Even if you intend to visit Hotel Omm's Roca Bar for a quick bite, you will soon be enticed to stay longer by the relaxed, friendly ambience and quirky modern design of the restaurant. Once drawn in and perusing the menu, it will become impossible to resist the allure of the diverse list of desserts. Refreshing sweet treats such as fresh fruit salad with sorbet and 'Rocadillo' ice cream in three different flavours may suit diners better in summer whereas warm confectionaries like chocolate coulant or homemade apple cake are the ideal end to a winter meal.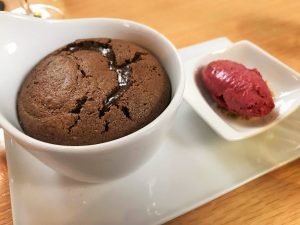 As befits a locale that intends to bridge the gap between avante garde hotel and local eatery, the cuisine at Roca Bar combines authentic Spanish recipes with contemporary designs and imaginative twists. It is successful in galvanizing all the senses, both wowing the eyes with impeccable aesthetics and inspiring the taste buds with its delectability. For a lunch to impress a date or to celebrate a memorable occasion, head to Hotel Omm on Passeig de Gracia.