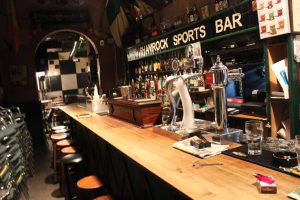 The Shamrock is a charming little Irish bar in the centre of Barcelona. Established in 1997, it is one of the city's oldest Irish bars. The bar is long and narrow with outdoor seating located in the square across the road. The Shamrock offers an intimate setting; I got the impression that all the punters and staff knew each other well.
With a capacity of around 100 people, whatever night you choose to attend, you will find a lively atmosphere. Most of the crowd is Irish or English, the rest tend to speak English as their second language.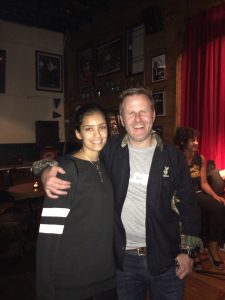 On Friday, I went to see Tom O' Mahony perform on the Guiriness Comedy's brand new stage at the Shamrock. Mahony has had three sell out years at the Edinburgh Fringe Festival, stars in the hit Irish series 'Damo and Ivor' and is currently filming a new feature. I caught up with Mahony before the show to gauge what I should expect.
He said that he realised that he was funny when he was old enough to understand what his parents were saying about him; it appears that the Irish and Spanish share the notion that brutal honesty is the best policy and so, tend not to hold back when they form an opinion of something or someone. He assured me that non-native English speakers would understand his accent as he adapts it as necessary for each audience: "I have a reset button in my brain telling me to slow down". Mahony characterised his shows as being based on observations and storytelling, which was definitely true of the show I attended.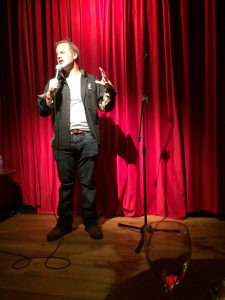 Mahony cleverly used the audience's nationalities to shape his script and move the show forward. There was a plethora of nationalities in the room; mainly American, English and Irish as well as a few Indian people and other Europeans – not many Catalans were present. When I asked audience members why they chose to attend the night, the general consensus was that an English language comedy night attracts a fun and pleasant crowd and that an Irish bar offers a good selection of drinks.
I thoroughly enjoyed my night at the Shamrock and highly recommend attending an evening of entertainment in the establishment. The audience were extremely interactive, all were laughing and Mahony received many positive comments when the show finished.
The next comedy night is on the 18th of November when Martin Mor will perform, but there are plenty more good reasons to visit The Shamrock. The bar offers a variety of food such as tapas, children's food, burgers all coming in at under 10€. The menu is actually currently being renewed so expect tasty things! There is also a very wide selection of drinks (as one would expect from an Irish bar), with cocktails for 6€, a range of local and English beers and ciders averaging at 3-4€ and a fine selection of Scottish and Irish whiskeys.
The Shamrock is not just a drinks bar; on match days they screen all the important sporting events from La Liga, the Champions League, Premiership Rugby and more. The Shamrock also presents live music from pop/rock to jazz blues depending on the night you attend, a weekly pub quiz (Mondays at 9:30pm) and an English comedy night (monthly). The comedians are all professionals invited to perform by the Guiriness Comedy Club and top quality shows are always guaranteed.