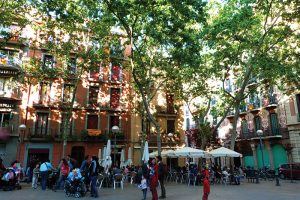 Spend the day in Gràcia:
Whilst visiting bustling Barcelona, why not take a day to enjoy the quieter side which the city has to offer. Over the years, Villa de Gràcia has established itself as one of the most cosmopolitan and hip areas of Barcelona. Home to 120,000 inhabitants, mainly comprising of young professionals, artists and a growing elderly population (most of whom came of age around the time Franco came to power), Gràcia's pro-independence politics can be seen almost everywhere as Catalonian flags hang from every other window in the district.
Not having the burden of major tourist attraction means Gràcia has developed its own identity. Instead of being full of international brands and fast-food chains, Gràcia is home to independent shops and authentic restaurants. Its unique and distinctive feel, thanks to its close-packed streets, structured around a series of beautiful squares, and Mediterranean style of low-rise architecture, mean Gràcia is the perfect place to get away from the active centre of Barcelona.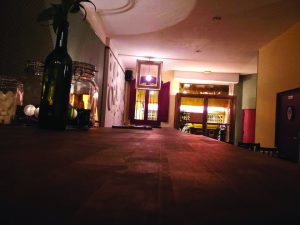 Brunch:
What better way to prepare for a day in Gràcia than with the most important meal of the day (almost). Gràcia is home to many small restaurants and cafés which offer the perfect opportunity to start your day right.
The 'non-stop organic kitchen' of Mama's Café has arguably one of the best, most extensive all-day breakfast menus in Barcelona. You will certainly need time to decide what to order so don't stop in here if you are in a rush. Although the café seems small at first, once you go upstairs it opens up and there's even a lovely terrace if it is a clear day. Using organic and local (when possible) products, the chefs create a wonderfully successful combination of flavours to give you the kick start you need for the day ahead.
Mama's Café, Carrer de Torrijos 26, Barcelona, 08012
Metro: Joanic (L4)
Opening hours: 9am-9pm every day (Thurday, Friday and Saturday until 12am); Tuesday closed.
Price: 10-15€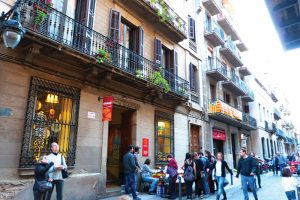 Shopping:
Now hunger is no longer an issue it's time to see some of the shopping on offer in Gràcia. You won't find any large international stores here as most of the shops are independently owned. There are many shops here and one could spend all day wandering around them but here are a couple that show what Gràcia's shopping is all about.
Opened in 2006, Álex González's Boo stocks clothes from his favourite vintage brands (Levi's, Norse Projects, Saint James), but also independent designers such as Plectrum and Tuk Tuk. Boo has managed to create a truly contemporary wardrobe whilst sticking to its values of only carrying high quality products of exceptional tailoring.
If fashion isn't your thing then head to Oslo, a space which features the work of 40-odd artisans and artists of Gràcia. The osleñas, as they call themselves, have created this quirky shop which has become a point of refuge for those introducing themselves to the DIY way of life.
Boo:
Address: Carrer de Bonavista 2, 08012, Barcelona
Metro: Diagonal (L3, L5)
Opening times: weekdays from 11am-8:30pm; Saturdays from 11am-3pm and 4:30pm-8:30pm
Oslo:
Address: Carrer del Torrent de l'Olla 164, 08012, Barcelona
Metro: Fontana (L3)
Opening hours: Tuesday to Saturday from 11am-2pm and from 5pm-8:30pm
Attractions: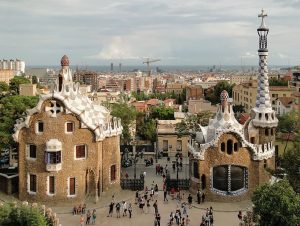 Park Güell:
Having spent some time wandering around the streets and shops of Gràcia, it is time to visit what could be called Gràcia's 'pièce de resistance'. Although not exactly in Gràcia (depending on who you ask as some of the locals argue which district owns the park), Park Güell was commissioned by Eusebi Güell, a close friend of Antoni Gaudí, to imitate the English garden cities. There are two different sections to Park Güell, the Gaudí Experience, for which you should pre-book tickets in order to avoid queues, and the surrounding parks of both Güell and Carmel.
The two gatehouses, one of which has a white and red mushroom as a roof, which greet you at the entrance of the Gaudí Expeience were based on Gaudí's designs for the opera Hänsel and Gretel. Of course, the Gaudí Experience is the centre piece of Park Güell, but there is more one can do. After seeing some of the most famous works of Gaudí, why not take the short hike around the back of the exhibition to the highest point of Park Carmel, where you will find yourself in scarce company with a 360° view which is hardly rivalled in Barcelona. Made a UNESCO world heritage site in 1969, Park Güell is certainly worth visiting during your day in Gràcia.
Address: Carrer d'Olot 5, Horta-Guinardó, 08024, Barcelona
Metro: Lesseps, Vallcarca (L3)
Opening times: Gaudí Experience – Jan 1 – Mar 28: 8.30am-6.15pm; Mar 29 – May 3: 8am-8pm; May 4 – Sept 6: 8am-9.30pm; Sept 7 – Oct 24: 8am-8pm; Oct 25 – Dec 31: 8.30am-6.15pm; Last entry 30-45 mins before closing.
Rest of park – 5am-midnight
Tickets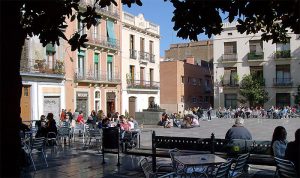 Squares:
The squares and plazas of Gràcia have helped this neighbourhood create its own unique personality. The diverse and numerous squares are ideal for family walks or meeting points for young locals, whilst also acting as venues for political and social activity.
Plaça Rovira i Trias is dedicated to one of Barcelona's most famous architechts who was born in Gràcia. Its relaxed atmosphere makes it the perfect place to kick back with a coffee or ice cream after the walk down Park Güell.
Plaça Virreina – a little south from Rovira i Trias and at one end of Carrer de Torrijos, have a beer in one of the bars and gaze at the beautiful church of Sant Joan.
Plaça de Villa de Gràcia – one of the most popular squares in the neighbourhood and home to a great clocktower, this square is full of terraces and used daily by families, locals and tourists.
To eat:
After walking the streets and squares you will have no doubt rebuilt your appetite and with the brilliant restaurants on offer in Gràcia you will not be disappointed.
L'Anxoveta (Carrer de Sant Domenec, 14-16)– a small restaurant hiding in the streets not far from Plaza de Villa de Gràcia, this little restaurant is known for its fresh tapas and stellar service. Make sure to try their famous buñelos de bacalao (cod fritters) and la bomba (potato and minced meat croquette)
Botafumeiro (Carrer Gran de Gràcia, 81) – arguably one of Barcelona's best fish restaurants, the best catches are carefully selected and cooked in a way that truly portrays Mediterranean and Catabrian cuisine.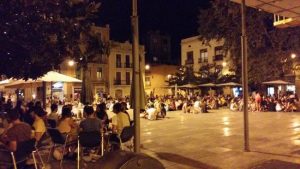 To drink:
If you still have some energy after dinner and fancy going for a drink before heading back to your accommodation then there are some great spots in Gràcia. Whether you prefer to be in a more formal bar, or on the streets with the locals, all is possible.
Chatelet (Carrer de Torrijos, 54)– located in the heart of Gràcia, the atmosphere and furniture is all inspired by boat and sealife, this is the perfect spot to have a cocktail (from 4€) and some fun with friends.
Sol Soler (Plaça del Sol, 21-22) – a hip and authentic tapas bar with indoor and outdoor tables in one corner of Plaza del Sol, great cocktails and snack food (if you're still hungry!?)
Plaça del Sol – if you still have not had enough of Gràcia's lovely squares then head to Plaza del Sol. Here you will find young locals crowding the square in their groups, playing music, chatting and just hanging out.