The Gothic quarter, part of the Ciutat Vella district, is the heart of the old city of Barcelona. Here you will stumble upon key landmarks, a bustling array of shops, busy cafes and some of the most enchanting tapas bars in the city. However, if a lively night out is on the cards, then you'll want to know about the best bars this area has to offer. Read on to find out more …
Lime House is a name you will hear repeatedly if you ask any local where to go for the best mojito. Famously delicious and dangerously strong, their mojito at the grand total of €3.50 is an absolute winner for anyone looking to have a fun-filled night out in Barcelona.
Behind the bar they boast a diverse range of homemade gin, offering every flavour under the sun, from roast-lamb to vanilla, ginger and sage, you will be spoilt for choice. Its extensive array of seating and fun and entertaining atmosphere makes it ideal to go with friends, however be warned that after 11:30pm on weekends it can get very busy and you may have to queue outside. If this is the case then head on over to its sister bar, Mint …
Carders 31, 647 73 77 07 (Opening hours 20:00 – 02:30)
From the owners of the acclaimed Lime House and Rubi bar comes Mint, located prominently on Paseo Isabel, near Barceloneta metro station and conveniently where El Born district meets the Gothic quarter. In line with the glorious philosophy of Lime House, Mint bar delivers the same high standards of their Mojitos, famously made with lashings of rum, crushed mint and lime, and a definite lack of soda water.
Not for the faint hearted, one mojito will have you well on the way to feeling sprightly, and two will leave you ready to paint the town red. The pink lights, fun music and friendly international staff make this a welcoming and sociable venue, and with the underground section opening up on weekends it is the ultimate destination to enjoy with a group of friends.
Paseo Isabel II, 4 . 647 73 77 07 (Opening hours 19:30 – 02:30)
Hidden round the corner on Carrer de Milans in the centre of the Gothic quarter, Manchester Bar boasts a wide selection of drinks, from an exotic mix of Latin American cocktails to cheap affordable bottles of beer (Only €1.50 until 10:30pm!) It's grungy but extremely enjoyable atmosphere makes it an ideal bar to hang out with friends, and the all-eras British music makes it a home away from home!
Some say it is hard to find if you're not a local… So make sure you whack the location into Google maps so as not to be lead astray. (If facing towards the port on Carrer D'Avinyó, turn down the street on the left just before Carrer d'en Gignas and you'll find it in the corner).
 Carrer de Milans, 5, 627 73 30 81 (Opening hours 19:00-03:00)
If heavy metal, Guns'n'Roses and Iron Maiden take your fancy, then head on over to Bollocks Rock Bar, located in the centre of the Gothic Quarter, minutes away from the seafront and Carrer de Colón. Good vibes, great music, friendly bar staff, and an eclectic mix of people make this bar a sanctuary for rock & roll fanatics.
The interior décor of band stickers and extensive graffiti illustrates the cool and laid-back attitude that the bar offers; a definite must to diversify any Gothic bar crawl.
Carrer Ample, 46, 663 71 00 95
This Argentinian restaurant and bar is a popular choice among many students living in and visiting Barcelona. Serving delectable meat dishes such as empanadas, milanesas and hamburgers alongside their inexpensive mojitos, beers and sangria, you will never leave feeling unsatisfied.
A mix between a low-key Argentinian steak house and a British pub, with all important football matches being aired, La República with its relaxed but lively setting does not disappoint. This is the perfect place to come with a big group of friends at the beginning of a night out to fuel up, given its spacious interior and affordable menu.
Carrer de la Mercé, 13, 932 95 66 84 (Opening hours 19:00-01:00 on weekdays, and 13:00- 03:00 on weekends)
Buzzing with energetic Latin Soul, music and food, El Bombón is the destination for aficionados of all things Latin American. From the enjoyable €3 jam-jar mojitos, to the regular live music and free salsa classes on Wednesdays, there's always something for everyone.
The vibrant ambiance paired with the crowds of smiling, dancing regulars unquestionably enjoying themselves make this bar a fantastic place to experience a taste of the Hispanic and Caribbean party culture; definitely not one to be missed.
 Carrer de la Mercé, 13, 933 10 76 99 (Opening hours 19:00- 02:30)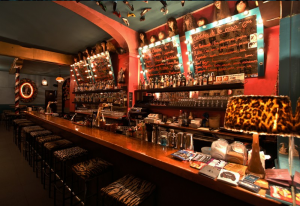 Sor Rita 
Waling into Sor Rita is like walking into an Almodóvar film set; with a decorative interior so extravagant it will leave you dazzled. With Barbie dolls in compromising positions lining the walls and endless high heeled shoes scattered across the ceiling, to it's chic and stylish leopard print wall paper, Sor Rita oozes sass and seduction. The cocktails are only a euro or two more expensive than the likes of Lime House and Mint, however it is well worth it to experience its weird and wonderful character. The array of drinks is vast, with many cocktails having been invented by the bar staff themselves. The bar also boasts the only karaoke night on offer in the Gothic Quarter, so head down on Thursdays from 9pm to experience a night to remember.
(Photo – Ángel Armero)
 Carrer de la Mercé 27, 931 76 62 66 (Opening hours 19:00- 03:00)