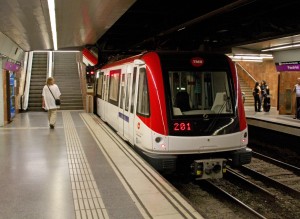 Public Transit
Most citizens and visitors of Barcelona primarily use the public transit system to get around the city. Why, you may ask?  Between the frequent metro trains, buses, and trams, the public transit system will take you anywhere you need to go.  The metro system (also called the metro) in Barcelona consists of 9 lines that branch out throughout the city, and often interconnect with one another.  For most of the places you need to go, the Metro will often get you there.  The trains are very consistent, and take a maximum of about 5 minutes between each one (often less).  Besides the metro, there are also nearly 100 buses that travel different routes.  If that's not enough for you to explore, then check out the tram line (a.k.a. El Tram).  In terms of ticketing, the ticketing machines in any metro station will sell you fairly cheap "Integration Tickets", which work for any of the 3 public transit options.  For those of you visiting Barcelona for only a few days, get one of the multi-day passes which cost from €14-€32, or if you're staying for a longer period of time, look into the monthly pass costing €52; with all of the exploring in your future, you're going to need it.  For more information, check out the transportation website.
Cable car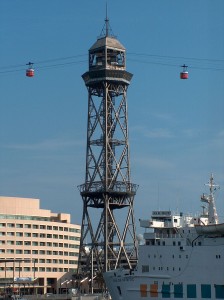 Interested in going up to one of the mountains surrounding Barcelona, like Montjuïc or Miramar? Take one of the Teleféricos, otherwise known as cable cars.  These airborne cars are sure to give you a beautiful view on the trip, with views of the entire city of Barcelona and the majestic sea.  Make sure to get to the starting point early however; although they are amazing rides, they aren't entirely quick either.  Generally, leave yourself around 30 minutes before you want to ride, as there can be lines for the cable cars.  The Montjuïc cable car usually costs €12, while Teleférico del Puerto is €11.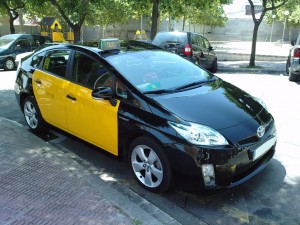 Taxis
Like in any major cities, taxis are prevalent in Barcelona. These black and yellow cars will take you any place you need to go in Barcelona, and while they might not be as cheap as some of the other alternatives on this page, they will get there in a hurry.  Taxis can usually be found either driving in the street or at more tourist-heavy hotspots, such as hotels, clubs or museums.  For a frame of reference, 15-minute taxi rides usually cost around €10.  Most taxi drivers can speak English fairly well (or at least as much as you need to get around), but if English isn't your strong suit have a look at Taxi Groc whose drivers speak foreign languages.
Bicycle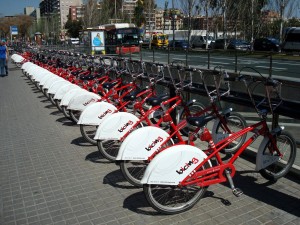 When visiting Barcelona, you may see several bike stations on the street with red and white bikes locked up. These "Bicing" bikes are actually available to rent for a period of time.  These bikes are useful because they allow you to get from one place to another on a bike, and leave it at wherever your destination may be.  To get a Bicing card, register at the Bicing website or at their office (keep in mind, however, that to register you will need to have a credit card and a Spanish bank account).  You can use this card to swipe at any station and ride immediately, and once you return the bike at another station you will be charged for the amount of time you've been gone.  The first 30 minutes are free, with half hour blocks up to 2 hours costing €0.70 each.  After 2 hours a penalty rate of €4.20 per hour is applied, as extended riding is discouraged.
Walking
Although it may not seem like it when you first arrive in Barcelona, the city isn't actually all that large. Most places you want to go to you can get to by just walking or using a combination of public transit and walking.  Explore the various areas of the city by walking from one section to another, and you won't miss a single thing!  A tip: always be aware of your surroundings and always have a hold on your belongings, as there are pickpockets in the city.