From November 2nd to 5th you will have the chance to see some of the world's best improv comedians on stage right here in Barcelona at The BIG IF. The festival's 4th edition will host over 150 improvisers from more than 20 countries, who will perform across 4 nights and deliver 20 original comedy shows. Expect non-stop original fast paced comedy built on audience suggestions.
For those who do not know, Improv (short for "Improvised Theatre") is an unscripted form of theatre where actors compose theatr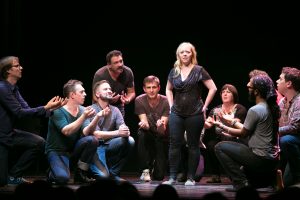 e as it is performed. Characters, dialogue and story are created spontaneously through a collaborative effort of the performers. Each and every show is going to be different and depend on those who come to see it.
Alongside Barcelona's own Impro Acatomba and The Modestos, you'll have the opportunity to see North American duo Rocket Sugar Factory, Irishman Neil +1 who improvises his entire show with a random audience member, multi award winning British team the Maydays, and Texas based veterans Parallelogramophonograph who will perform an improvised French Farce and are described as "Austin's finest purveyors of the improvisation genre".  There is something for everyone, even a fully improvised musical!
The festival all started when founder Noah Levin attended an improv festival and became inspired to make it happen here in Barcelona. The following Fall, BIG IF was born. The festival has gone from a small show to one of the most well respected improv festivals in the world.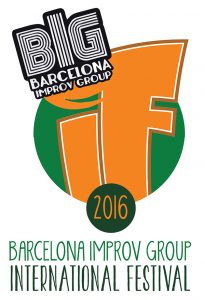 Such acclaim has allowed BIG IF to bring together some of the most famous groups from around the world, performing together. It is considered to have among the best mix of styles and is a great place to test out new improv tricks. It has become the largest improv festival in Europe with around 195 participants this year.
In addition to the shows, this festival offers workshops for people at all levels of improv. After more than 60 teachers applied to host a workshop, 16 have been chosen for the 4-day extravaganza. These range greatly with topics as niche as "Melodramatic Clowns Fueled on Physical Improvisation." With teachers from around the world coming to impart what they know about improv, these works
hops have been filling up very quickly so make sure to book your spot now.
With shows in English, Spanish and Catalan, you have your pick of what you want to see and who you can go with. Try out a show in a new language, it might be even more funny than seeing one in a language you are fluent in. It will certainly be an experience.
Last year they sold out three of their festival shows so get your tickets online to avoid disappointment!
For more information and to purchase tickets, Visit www.barcelonaimprovfestival.com
Photography: Olivier Valiente