If you're interested in a fun filled day of seeing some of the most awe-striking sights and monuments of Barcelona there are several organised tours you could check out. We joined Sandemans and explored La Sagrada Família, Casa Batllò, Casa Mila, Casa Amatller, and much more in a Gaudi & Modernism Tour.
Meeting
We met at the square Plaça de l'Àngel and were separated into groups. There is an English tour and a Spanish tour, depending on your preference. Our Polish guide was super friendly and shared a little bit about himself and what brought him to Barcelona. After his introduction, we jumped straight into the tour!
Palau de la Música
Our first stop was right across the street, to Palau de la Música Catalana by Domènech i Montaner. Here we were introduced to the Modernist architectural movement.
Passeig de Gràcia

We then took a small stroll to Passeig de Gràcia where we were introduced to other great works of art. Although it wasn't too long a walk from our initial meeting place you'd want to make sure you are wearing comfortable shoes, this is a walking tour after all.

Casa Mulleras
Our first stop along Passeig de Gràcia was Casa Mulleras, which was constructed by Enric Sagnier. Our guide showed pictures of the interior, since we didn't go inside. We also had a closer look at the exterior with an explanation of the symbolism included within the structure.
Casa Amatller
Next stop, Casa Amatller by Cádafalch. This was just down the block from our previous stop, and a wonderful sight to behold. We were explained the history of the house, then our guide took us inside to show us the lobby. There was a magnificent staircase decorating the corridor that spoke volumes about its beauty. You can peek up the top of the staircase and see the beautiful stained glass that decorates the ceiling, truly breathtaking!
Chocolate break
We took a break at Casa Amatller. Inside you will find the Faborit Café, which will seduce you with its sweet chocolate aroma. The café includes a little shop where you can buy chocolate which has been made the same way since the 1800s. Make sure to order the chocolate a la taza (hot chocolate) while you're there, you'll get warm bread to go with it as well as a happy tummy. Trust us, you won't regret it!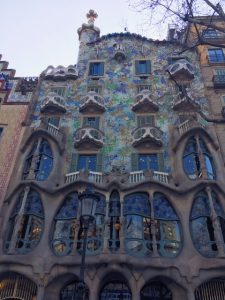 Casa Batlló
After a short break we continued to Casa Batllò by Gaudí, which is right next door. Again, we were shown beautiful pictures of the interior and introduced to the building's history and significance.
We then crossed the street to get a full view of both monuments next to each other, as well as a new perspective perhaps of what Gaudí and Cadafalch were thinking when creating these works of art.
Casa Milà
Continuing the tour, we travelled up Passeig de Gràcia to another Gaudí work of art, Casa Milà. This magnificent monument was inspired by the sea and Gaudí's last work before he focussed on the Sagrada Família. Be prepared to be complete stunned by its façade as well as interior and roof top images. You can even catch a glimpse of the interior ceilings and walls through the glass windows decorating the façade.
Basílica de la Sagrada Família
To finish our tour, we hopped on the metro to La Sagrada Família. If you do not have a train ticket, have no fear! Your helpful guides will help you purchase one.
La Sagrada Família is bound to make a grand impression. We started on the Gaudí side and were introduced to the many sculptures built on the façade and their meaning as well as pictures of the interior. Our guide had pictures of each sculpture for us to see up close.
We then walked around to the back of La Sagrada Família where we were able to touch its smooth walls and learn some fun facts of the new architecture that is now part of the monument.

Start
Sandeman tours are every day starting at 2:30 pm. Meet just outside the Jaume I metro exit at the square Plaça de l'Àngel. Keep an eye out for the red t-shirts and red umbrellas, the team will be happy to check you in and answer any questions you might have.
Length
The average tour is two hours, however, your tour may vary depending on what your guide thinks is best.
Price
Regular: 14 euros. Student: 12 euros.
Does not include entrance to monuments.
Click here to register for the next available tour.