Every Game of Thrones fan will tell you that it requires a fearless heart to merely step foot in the dangerous lands of Westeros and Essos. For those lacking the swordsmith of Jamie Lannister (before his unfortunate amputation), or the brutality of the Mountain, the next best thing is hosted at the Museu Marítim de Barcelona. This is, of course, the immersive and interactive 10,000 square foot Game of Thrones exhibition, available in Spain for a limited time only.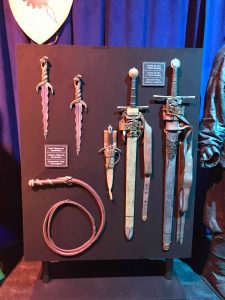 It is no surprise that the city of Barcelona was chosen for the debut revealing of the series' most iconic sets, costumes and props. Much of the incredibly successful TV show's filming has taken place across the Iberian peninsula, and the medieval building hosting the exhibition could easily appear in King's Landing itself. It has been so popular in fact, that the spectacle has remained in Barcelona nearly a month longer than originally planned. But, this will come as no surprise when you see the incredible detail and expertise that has clearly gone into creating the minutest details of Game of Thrones. Indeed, 'exhibition' is in some ways an inadequate word; it is more a shrine, a temple and a museum to everything inspired by the creative genius, George R.R. Martin.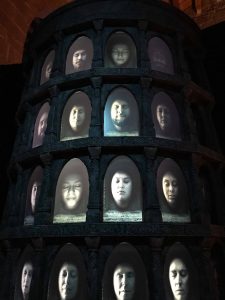 Venture through various rooms dedicated to all your favourite Westerosi locations, as shown on HBO. For instance, encounter the intimidating armour and spears of the Unsullied, forever guarding the magnificent dress of the Khaleesi herself, Daenerys Targaryen in the Great Pyramid of Meereen. In another, find yourself wandering the frozen forests north of the Wall until you reach the home of the infamous Night's Watch, Castle Black. Each area shows the most memorable scenes from its location on a screen, such as the betrayal and murder of Jon Snow and the resurrection of the dragon Viserion by the Night King.
Whilst the costumes and props deservedly take centre stage, the interactive activities in each room are likewise entertaining and good fun, whatever your age may be. They also make for some hilarious photo opportunities. Get snapped attempting to climb the Wall like a Wildling raider, or have your mugshot added to the Hall of Faces. There are also professional pictures to be purchased, taken riding Drogon the dragon or seated in the mighty Iron Throne. However, true adherents to the programme will no doubt remember that 'sitting a throne is a thousand times harder than winning one'!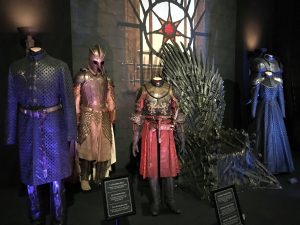 Noteworthy extras that really make the exhibition unique and special include an accompanying audio by costume designer Michele Clapton. But, for any fan, just to be near the same clothes worn by the heroes and villains of the show is sufficiently amazing in itself. The real life taste of Game of Thrones certainly makes waiting for the Season 8 release date all the more frustrating!