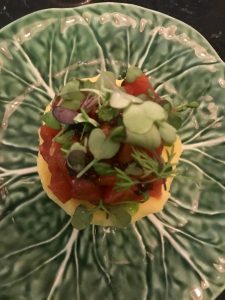 Part of the iconic Grupo San Telmo, Kokka has an expansive selection of sushi Japanese-Peruvian offerings, from more typical dishes like lightly salted Edamame beans to quirky fusion offerings. Hidden inside Palosanto in the charming Gothic quarter, we can assure you that this place will maki your trip to the Catalan capital – have your chopsticks at the ready!
The gastronomic scene in Barcelona is somewhat limited, predominantly boasting a wealth of tapas restaurants. However, Kokka brings a new dimension to the city's selection and is the perfect option if you're craving somewhere different. Indeed, Kokka's diverse menu is much healthier than your quintessential local cuisine, consisting of patatas bravas or pan con tomate. That said, Kokka's co-existence with Palosanto allows diners to opt for dishes from both restaurants so that you are able to sample an expansive variety of ingredients, flavours and dishes.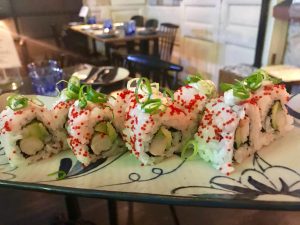 Kokka's menu experiments with innovative fusion cuisine and successfully combines two unique influences: to create fantastically tasty and impeccably presented food. Given that both Peru and Japan are raw fish lovers, faultlessly fresh fish specifically features heavily on Kokka's menu – so perhaps not recommended for the carnivores amongst you!
Kokka goes way beyond the usual sushi suspects with their varied assortment of sashimi, nigiris, temakis and maki rolls. Expect platters of cut rolls tightly wrapped with nori or glistening slices of fish, beautifully presented with dots of ginger and wasabi. The complex precision-tuned flavours are a real wow, and each little package is filled to the brim with supremely fresh ingredients. However, whether you're a sushi novice or connoisseur, it can be tricky business deciding what to go for, therefore we recommend their special 'Table Kokka' to whet your appetite and provide some sushi inspiration.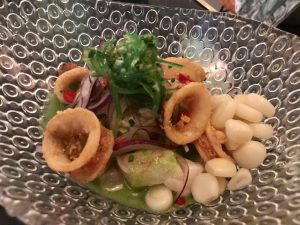 Whilst Kokka's sushi is next to none, their ceviche is a must, especially to get your Peruvian fill. Ceviche has caused quite a stir in Barcelona as of late, and is increasingly being served in the best tapas restaurants across the city. However, with Kokka setting the bar with their zesty mixed green ceviche there certainly is some stiff competition. What's their secret? You'll have to visit to find out!
The eatery's casual atmosphere is the perfect place for a catch up amongst friends or if you're simply seeking somewhere different for a meal with the family. Not to mention, their outdoor seating area in Plaza de George Orwell is an idyllic spot for alfresco dining and to enjoy a warm Mediterranean evening.