When visiting the Mediterranean, finding quality local food and wine is a priority for anyone with an appreciation for the finer things in life. However, with the overwhelming abundance of restaurants and markets in Barcelona, it can be hard to discover authentic Catalan cuisine. Fortunately, Foodie & Tours is here to show you the very best of Spanish gastronomy in the region's capital and cultural centre.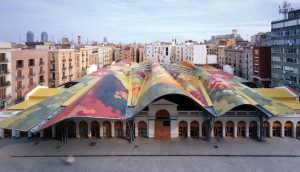 No Barcelona food tour would be complete without a trip to one of the many food markets. We were lucky to have experienced guide Mireia Pascual lead us to the second largest, and most recently renovated market in the city, Mercat Santa Caterina. Architects Enric Miralles and Benedetta Tagliabue are responsible for the unforgettable, multi-coloured, and wave-shaped ceramic roof which shelters the stalls below from the elements. With more reasonable prices and fewer people than La Boqueria market, Mercat Santa Caterina is ideal for buying fresh and seasonable produce and hearing the history behind traditional foods and ingredients. This bustling area is also the premier market for the trendy neighbourhood of El Born, and a perfect first stop for a local food tour.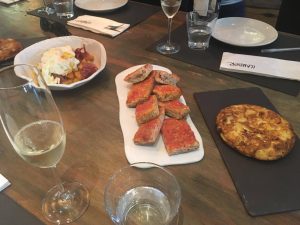 After learning about how many restaurants source their ingredients in the market, Mireia then took her attentive followers to one such place: Llamber Restaurant, located next to the old El Born market. A Spanish lunch of tortilla, crashed eggs with Iberico ham and, (of course), tomato bread, was served along with another Catalan favourite, cava. Satisfied for now (but still hungry for more of both Mireia's knowledge and choice Spanish cuisine), the tour ambled unhurriedly on towards the Gothic quarter, one of the oldest and most central districts of Barcelona.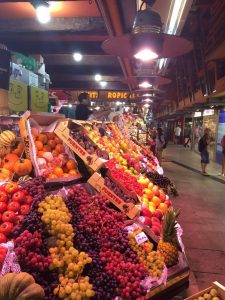 An especial advantage of Foodie & Tours is that whether you have lived in Barcelona for decades, or have just arrived for a long weekend, you are guaranteed to see new places, taste original flavours, and learn novel facts about the rich culture surrounding you. As Mireia leads you deep into the rabbit-warren maze of streets in the Gothic district to reveal some of the city's most treasured and best-kept secrets, a few of these hidden gems are revealed. For instance, Casa Gispert, one of the oldest food stores in Barcelona, was one of the many stops on the tour, and has been run by the same family since 1851. It is most intriguing for the manner in which they continue to roast their nuts in the same traditional wood fire that were used by their forbears.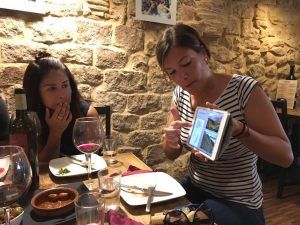 Zona d'Ombra was the next destination and an insight into the history of Barcelona from its origins as the Roman city of Barcino, right through to the Spanish Civil War (1936-39), was imparted by Mireia as we encountered places of particular significance en route. An entire wall of this restaurant is devoted to endless shelves of wines from every region in Spain, along with a strong presence of Italian grape also. Another feast of Spanish food was presented, including five different types of particularly succulent tomatoes (purchased that morning at Mercat Santa Caterina), and a broad selection of both artisan cheeses and jamón. More wine, carefully selected from the plethora on offer, was generously poured out and diners were welcome to choose between a crisp, sweet white or a fruity midday red.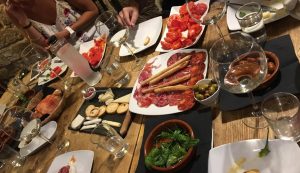 Fully satiated by this point, Mireia finished the tour outside Barcelona Cathedral, a convenient end point for any tourist. The Catalan capital has a myriad of places to eat, drink and explore, but you will rarely see so many true to home and picturesque establishments in the space of a few hours. Equally, although Barcelona has many tours, it is still special to find one with such an enthusiastic and insightful guide as Mireia, so that you gain not only an impressive knowledge of the city and its gastronomic traditions, but also the pleasure of meeting a friendly local who you hope to see again.