What better way to find your feet in a foreign city than to befriend a local foodie who can provide an insider's insight and expert recommendations? Food Lovers Company surpass this with their knowledgeable guides Nuria and Margherita, who are fanatic for revealing Barcelona's most traditional food and beverages. Their tour will lead you through the oldest part of the city, the ancient neighbourhoods of the Gothic quarter and El Born, and is shrewdly designed to help newcomers orientate themselves in the sprawling maze of streets, restaurants and bars.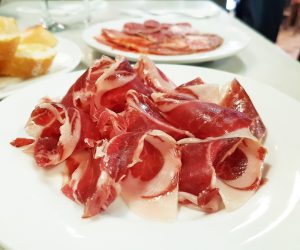 Begin your adventure outside the iconic Santa Caterina market; a key landmark and easily locatable for Barcelona newbies. From beneath the stunning Gaudiesque roof of this recently renovated building you will plunge into the bustling Gothic quarter to resurface in a quiet eatery for the evening's first taster. Sit on the same stools as three generations of Catalans before you and appreciate the rustic simplicity of pa amb tomàquet and delicately sliced charcuterie. Until you have savoured wafer-thin jamón ibérico with a full-bodied glass of red, your appreciation for Iberian living will have been inadequate to say the least.
Walk off your appetiser with a stroll through the heart of the Catalan capital to another carefully and expertly selected venue. With a food menu consisting of barely five options, you can be certain that each and every dish in this quaint restaurant is prepared to perfection. Seafood lovers will find themselves in heaven as heaped plates of anchovies are set before them; one a golden mountain of fried anchovies, and the other a lightly salted anchovy and tomato salad. In addition, the group is provided with a bottle of vermouth – a strong and fruity blend of spiced wine, that will leave you hungering for even more tapas.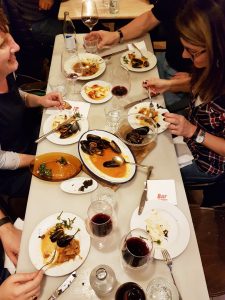 But, before you reach the final restaurant, Food Lovers Company want to share with everyone two particularly special places. Firstly, a magnificent view of the city from the rooftop of an ancient church. What better way to have the geography of Barcelona demonstrated to you than from a bird's eye perspective as the sun drops behind the distant western mountains? With this sublime memory etched in your mind, the tour comes back down to earth and leads to a small cheese producing shop. Sample local cheeses from cow, goat and sheep milk with a sweet slice of quince in this enchanting shop, and meet the owner behind the thriving business. Before you leave, a surprise snack is offered to everyone – miniature ice cream made with either smoked or blue cheese. Whilst perhaps not for everyone, the bizarre but intriguing combination will undoubtedly be a first for most (and a last for some!).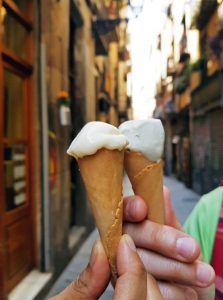 Finally, the pièce de résistance of the evening is a sit-down meal in a busy local hotspot. Serenaded by the lively Catalan and Spanish conversations around you, enjoy speciality dishes such as light red pepper croquettes and moreish mussels in a creamy white onion sauce. Their succulent pork is certainly not to be missed, no matter how full you are from the previous stops. Fortunately, Food Lovers Company fully appreciate the Mediterranean tradition of long meals, characterised by lively conversation and plenty of wine, and allowing everyone ample time to savour every mouthful. Indeed, the entire experience is relaxed and tranquil; the ideal way to get into the holiday spirit and enjoy some of Barcelona's best authentic gems.