Often the most simple ideas are the most powerful. The apothegm behind the Food Lover Tour Barcelona is no exception, it's key principle being merely to eat where locals eat. But, the market lover experience goes far beyond this premise and was in fact a three-hour education on the history, traditions and typical habits of Catalans by our knowledgeable and animated guide, Josh.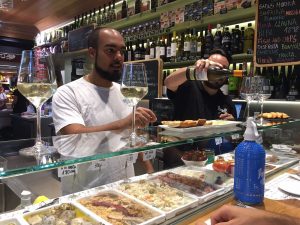 The tour began at Mercat del Ninot, located in the Western portion of Eixample, not far from Plaça de Catalunya. Despite the proximity of this famous square, this is nevertheless off most tourist routes and is still bustling with locals who have shopped here for decades. This market was selected for its staunch traditionalism and the quality of the goods being sold and it was quickly clear why. All the stalls are family-owned by the same kinship groups who have run them for generations, refusing to sell-out to commercially driven companies that have taken over more centrally placed markets such as the La Boqueria, off La Rambla.
No doubt due to the predominantly local vibe, the entire market had a much friendlier atmosphere than is commonly felt at Barcelona's markets, with greetings and jokes being exchanged between Josh and various sellers. The spacious layout made it comfortable for the group to stop besides shops and listen to Josh explain just about everything you could want to know about the wares, their origins, their usages, their source, the owners and their backgrounds. This was in stark contrast to the compact, impersonal environment of La Boqueria where many stalls are identical and it's impossible to stop for long without being pulled away by the sheer pressure of people. Instead, at Mercat del Ninot, every stand has a distinct character and caters for even the most specific of tastes and preferences.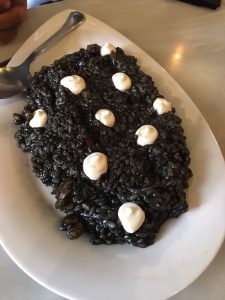 Samples of jamón, chorizo and manchego cheese were carefully prepared for us at the main meat stall where an onlooker mistook it for free offerings and attempted to join the tour! Following this, the group was led to a prestigious tapas bar, named one of the top 10 places to eat by the Guardian newspaper. A full Spanish lunch of various dishes and of course, a bottle of wine, was provided here, once again with detailed descriptions by Josh, and friendly teasing banter from the chefs and waiters. The cuisine here consisted of anchovies, prepared not in the usual salted method, but instead with oil and lemon; fried octopus with potatoes; fresh tomato bread and many more. Each plate found the perfect balance of giving enough of a taste to really enjoy and appreciate the food but leaving a desire for more each time. This craving was for the best because after this meal was over, we set off on a short walk out of the market to another restaurant for a second lunch!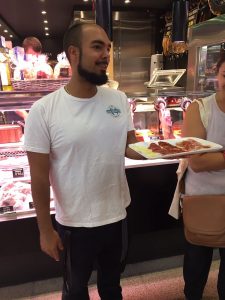 La Falconera was our destination, a traditional tapas restaurant and another location unfrequented by tourists. Once again, the staff were jovial and carefully laid out an entire feast for our already reasonably gratified group. But, somehow we all found space for a delicious black squid paella, creamy gazpacho, crème brûlée and pastries washed down with another bottle of Spanish wine. All ingredients possible were bought from the Mercat del Ninot, as indeed most of the prestigious restaurants in the area are wont to do, in order to ensure the gastronomy was of the freshest and best quality possible. During the meal, conversation flowed from gastronomy and wine, to TV series, to the politics of Catalonian independence. Josh was an excellent host, ensuring everyone had more than enough to eat and drink and answering every conceivable question about the contents of our plates.
True to the Food Lover Tour's word, you will certainly eat where the locals eat if you take on their experience. Our guide, Josh, and the restaurant owners we encountered could not have been more affable, and will ensure you finish the day full of food and overflowing with knowledge about Catalonian cuisine.