Visitors to Barcelona are amazed and even overwhelmed by how much there is to do and admire. Cramming the multitude of sights and landmarks into a single trip can be tricky for even the most organised of people. Fortunately, Fat Tire Tours offer a four-hour cycling adventure that encompasses everything you could want to see from the saddle.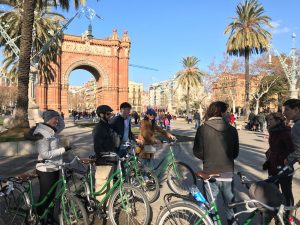 Begin your day of exploration in the very heart of Barcelona, Plaça Sant Jaume. Your guide will teach you about ancient Barcino's classical roots in the site of the original Roman forum. It is a great way to orientate yourself within both the long enthralling history of the Catalan capital, and geographically in the metropolis too. But, whilst the tour provides in-depth information and detailed descriptions of Barcelona, both past and present, guides keep their speeches short and pithy. You will never be overloaded with facts, but rather amused by urban legends and quirky anecdotes as you pass through the central neighbourhoods, the Gothic Quarter, Eixample, Barceloneta and Born.
No excursion around Barcelona would be complete (or even possible) without visiting some of Gaudí's architectural curiosities. Time is allocated to wander around the outside of Barcelona's best-known church (the Sagrada Família of course!) and admire the still unfinished masterpiece of Catalan Modernism. Lesser-known but almost as impressive, the Palau de la Música Catalana was designed by Gaudí's teach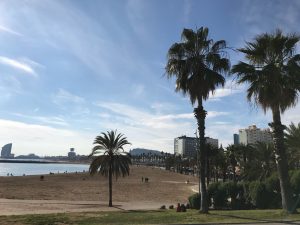 er, Lluís Domènech i Montaner, and may go unnoticed without a knowledgeable guide to point it out. It is this added richness that City Bike Tour brings to a tourists' experience; revealing off the beaten track gems and providing fascinating insights that cannot be found in the guidebooks.
After several hours of cycling and sightseeing, the tour runs parallel with the beach and stops for lunch at a bustling seaview cafe. Traditional Spanish favourites share the menu with more typical cuisine such as burgers and salads, so there's sure to be something for everyone. This is yet another great chance to ask your guide for any recommendations and advice about the city, and they will be delighted to share their expert tips with you. Suggestions from knowledgeable locals are invaluable to any tourist and can transform an entire holiday, so take advantage of this time to enhance your itinerary!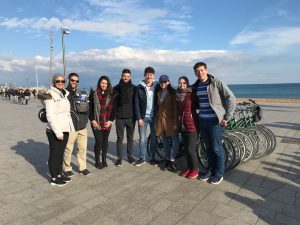 Soporific with patatas bravas and sangria, there are just a couple of stops left before returning to the bike shop. However, since these are located in the beautiful El Born neighbourhood, you'll soon be wide-eyed with wonder marvelling at the imposing Santa Maria del Mar church and the peaceful Passeig del Born. Ending the day back at Plaça Sant Jaume is ideal for either continuing your sightseeing in the Gothic quarter or heading up La Rambla for shopping. What's certain is that you will feel immensely familiar with the key districts of the city and many of the attractions hidden amongst its winding streets and leafy boulevards with a Fat Tire bike tour.