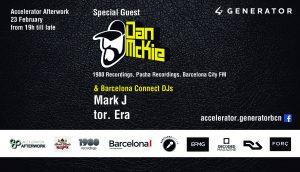 Bored of hanging around until midnight to get some club vibes?  Well, wait no more.  A new pre-club-night concept on the last Thursday of the month at the Generator Hostel, situated in Gracia, will keep your cogs oiled until the city's nightclubs beckon.
Fast track your weekend with Accelerator, an after work concept featuring an upfront electronic music review of the latest unreleased and just released tracks. Located in the beautiful Generator Hostel Bar Zone, the event is curated by both native and local DJs who are resident in the city. It is open to members of the public and hostel guests and will showcase the latest music from the world's finest House & Techno music.
The event, hosted by the Barcelona Connect Nightlife team, has already gathered a bit of following on underground music portal Resident Advisor. Accelerator begins after the day shift shuts up shop and could literally end anywhere in the city where the event will link its guests with the city's nighttime venues.
"I'm very happy to host this event," said Nino Heinz, Food & Beverage Manager at Generator Hostel, Barcelona. "The city has a vibrant underground scene and our bar is a great zone to hang out and catch-up with the latest sounds. Generator Hostel offers a great selection of food and drinks and always attracts a charming crowd of locals and travelers alike," he added.
For the opening the guest DJ is Dan Mckie, who hosts a show on Barcelona City FM Radio, He also has a show with global service Pioneer DJ Radio and releases as a respected producer on labels such as his own, 1980 Recordings, and other great imprints such as Pacha Recordings and King Street to name just a few.
Future Guests will include other familiar names on the Barcelona nightclub circuit, such as Gustavo Lopez (Argentina), Bern Gomez (Catalunya) and Paul Loraine (UK). The two residents are Barcelona Connect Nightlife's Mark J and new-comer, tor. Era, who has been playing at events in Vietnam.
Please see the Facebook group "accelerator.generatorbcn" for further information and updates.
Dan McKie: www.mixcloud.com/danmckie1980
Barcelona Connect: www.barcelonaconnect.com
Generator: www.generatorhostels.com/Barcelona‎
RA Info: www.residentadvisor.net/event.aspx?927643
PARTNERS:
Forç Magazine, Barcelona Connect, Decoded Magazine, Bcn Cuts Barber Shop, 1980 Recordings, Barcelona City FM (107.3 FM) & Generator Hostel Barcelona