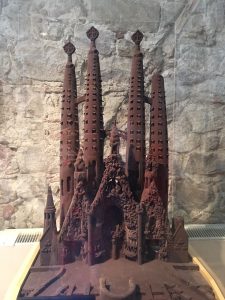 Indulge your taste buds whilst exploring the quaint and picturesque El Born neighbourhood with Gourmet Lovers' ' Sweet Walking Tour '. Sweet indeed, this tour simultaneously satisfies your sugar cravings whilst delving into Barcelona's gastronomic culture, with an enthusiastic and charismatic tour guide- in our case, the lovely Nelly. Prepare to be teased with the wonderful and tantalising world of pastry and chocolate making- a fine craft that makes quitting the day job increasingly tempting to become a sweet connoisseur yourself.
Where better to begin three hours of pure sweet heaven, than at the 'Museu de la Xocolata'? If it weren't for Nelly beckoning you in, it's rich aroma of cocoa would be enough to entice you into this exquisite exhibition of Europe's chocolate history, from its industrial production to its refined sweetening process. Yet, its most impressive section is the 'Sala Barcelona', displaying Barcelona's most iconic buildings in miniature chocolate form. Unfortunately, there is a no nibbling policy, however fear not as your ticket to the museum doubles up as a chocolate bar- ah, the sweet life.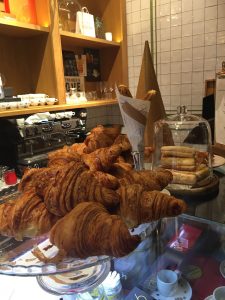 Having conquered the fascinating art of chocolate, your tour guide will introduce you to the equally intriguing world of sweet pastries. First up, a top spot on the Catalan capital's pastry panorama, thanks to their critically acclaimed butter croissant which was voted the best in Spain in 2014.Their sublime selection of artisan croissants with various divine fillings are everything you could possibly want from a croissant- flaky, buttery and light. What's more, when enjoyed alongside delicate cava it's difficult not to ask yourself, who need's the French?
If your sweet tooth still hasn't been fully satisfied, the final stop on this walking tour is an authentic Italian gelateria. Pistacchio, hazelnut, stracciatella…take your pick from their velvety homemade ice cream, made with only the finest ingredients. Whether you're an ice cream fanatic or not, this gelato paradise will certainly not disappoint. But no need to say your sweet goodbyes just yet, as your tour guide will give you all the necessary information for your return to the sweet city of Barcelona.
https://www.gourmet-lovers.com/sweet-tour