javhide.com
https://javplays.com

Vida Festival 2015
2 July, 2015 @ 4:00 pm

-

5 July, 2015 @ 4:00 am

|

65€
Event Navigation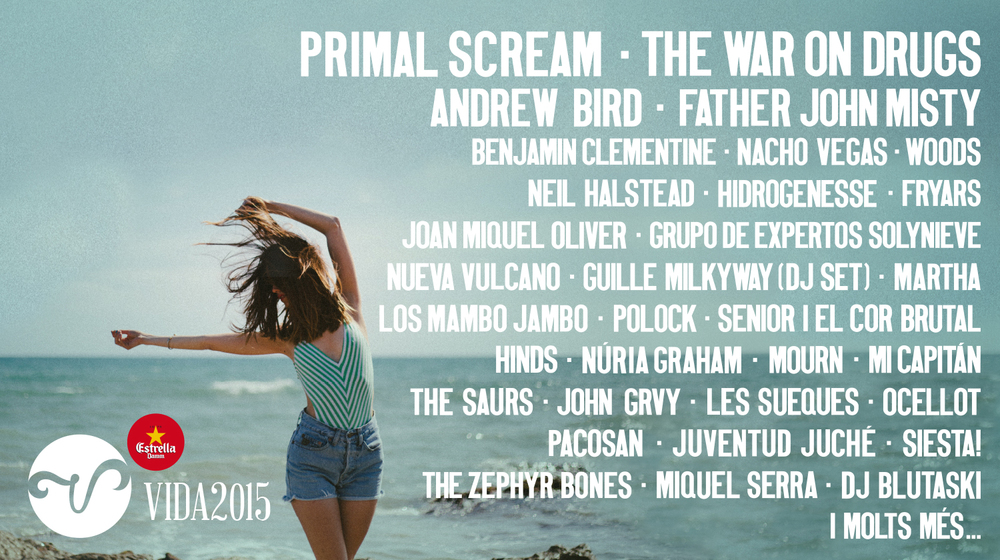 The excitement builds as the first acts are announced!
Primal Scream, The War on Drugs, Andrew Bird and Father John Misty are set to headline this year's exciting and appropriately named Vida Festival. The festival, which takes place from 2nd – 5th July, promises to be a vibrant, energetic celebration of rock, pop and contemporary music set within stunning, natural surroundings. With tickets at only 65 euros for the four days (camping included) and taking place only a stones-throw away from Barcelona at the location of Vilanova i la Geltrú, this inexpensive, up-and-coming festival can't be missed!
***
Primal Scream
The legendary indie band still have enough energy, and certainly the songs, to tour and headline festivals. With a huge catalogue of songs dating back to 1982 and leading up to their latest album More Light (2013), you can expect to hear all the sing-along classics such as Movin' on Up, Loaded and Rocks, along with the more psychedelic and dancier material which they've produced since.
The War on Drugs
Touring off the back of their critically acclaimed third album Lost in the Dream (2014), the band which incorporates guitar, keyboard, saxophone, harmonica, synth and drums, are sure to perform a melodic, feel-good, joyful set characterized by expansive, glossy guitar solos. Anyone who saw them at last year's Primavera Sound festival knows they're in for a treat.
Andrew Bird
The American multi-instrumentalist (who plays the violin, guitar, glockenspiel, sings and whistles) could be the perfect fit for this festival. His latest recordings Echolations: Canyon (2015) see him journey through the red sandstone canyons of Utah, using its natural acoustics to reverberate his sounds through this beautiful setting. Playing a eclectic mixture of folk, bluegrass and rock – expect to witness a talented, intimate, unique performer.
Father John Misty
Having rejected his Evangelical Christian upbringing and quit as drummer of the Fleet Foxes at the peak of their success, John Tillman's path to success as a folk singer-songwriter hasn't exactly been on the straight and narrow. His new persona, Father John Misty, explores themes of love and romance using honest and frank lyrics.
***
Set at the beautiful beach-side location of Vilanova i la Geltrú, near Sitges, the three areas which make up Vida 2015 will provide a spacious, natural, diverse setting. Set within a forest, a beach club and even on a boat, the various stages will allow for a range of different of musical experiences – from the big-name performers on the main stage to the DJ sets and singer-songwriters in the more intimate venues. Aside from the music there is plenty more that Vida 2015 has to offer – with an open-air cinema, a picnic area, lounging areas, a market and an activity area for children, it is a multi-dimensional festival which celebrates music, nature, art and film.
New Confirmations, 7th April:
Super Furry Animals :: Ezra Furman
Krystal Klear Djs :: Tiger & Woods Djs
Modelo de Respuesta Polar :: Dj Coco
Joan Thelorious :: Indiespot Dj :: Monami Dj :: EOTR Djs :: Miguel Martín (Stand Up Comedy) :: Vida Djs
* For more info and to see the full line up see the official website