javhide.com
https://javplays.com

Saint Patrick's Day in Barcelona
Event Navigation
It's that time of year again where we all have good food, music and Guinness on the mind. You don't need to travel to Ireland to celebrate Saint Patrick's Day, we have all the traditional festivities right here in Barcelona!
Saint Patrick's Day celebrations take place in many Irish pubs throughout Barcelona. Pubs will be decorated with everything green and will hold various activities and specials. Be prepared to enjoy corned beef and live music or try a special green cocktail. The city of Barcelona will truly be painted green this March so join in on some of these traditions.
Some annual festivities include the street party which is organized by Kitty O 'Shea's pub. In years past, everyone was able to enjoy music from DJs and bands while kids were able to play Rugby, do make up, or participate in crafts such as painting in the children's area.
Flaherty's Irish Pub should also be on your go to list for this Irish holiday.This bar located right near the Rambla offers some of the best beers, whiskey, and traditional Irish dishes. On Saint Patrick's Day they offer special discounts on drinks and food along with games and prizes.
It is obvious that Temple bar in Barcelona will also be the perfect place to celebrate t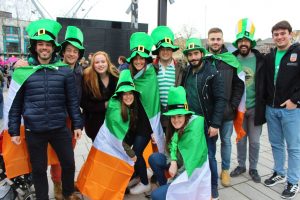 he holiday. Green will completely cover this bar and make you second guess whether you are in barcelona or Dublin.
Another option for your Saint Patrick's Day plans may include the Currach Regatta. Whether you want to enter a team or sit back and watch, the atmosphere of this event is unmatched. You can get a taste of the Irish culture in Spain while you eat food, drink guinness and enjoy the Barcelona sun. The regatta will be held on March 15 this year and team registration will be opening shortly.