The European Museum of Modern Art, MEAM, opened its doors in 2011, with the mission to promote and diffuse Figurative Art of the 20th and 21st Centuries. The MEAM is located at the Gomis Palace, in the Born neighbourhood, a neighbourhood which manages to be both  traditional and modern, where culture and art are important.
Each year, the Foundation of Arts and Artists organizes lots of events, permanent and temporary exhibitions and activities. Artworks that can be seen at MEAM are different and hard to find in other museums.
Before the big exhibition of the Hungarian painter Istvan Sandorfi in September and November 2016, here are some events you could attend this summer 2016.
Lots of the events presented in this article are free. Find out more information about the prices in general here.
Exhibitions
From 23 to 24 June. 10:00 – 20:00. Free admission.
Up to 28 artists contribute to this unique project that combines fashion and art. It is a project of the Fashion Art Institute chaired by designer Manuel Fernandez. The exhibition communicates European values and gives the opportunity to enjoy art and fashion mixed through clothes.
Permanent exhibitions/Collection and artists
10:00 – 20:00. Free admission.
Since 2011, the MEAM has presented a highly original collection of figurative paintings and sculptures by contemporary artists. The MEAM's exhibition: "Contemporary artists of the XXI century", is a tribute to all the artists who have joined them, who keep on working with the hope of transmitting their art.
Modern sculpture from 20th century 
This collection covers a large number of twentieth century sculptors of different European nationalities, some of whom began their careers in the nineteenth century, including French, German, and some Italian, English and Czech pieces. They are cast in marble, bronze, terracotta and plaster, and the sculptures all evoke some aspect of our art and culture.
Some of the artists are Max Blondat, Dejean, Delamarre. Among the Germans, Klimsch, Kolbe, Müller, Breker and many more, adding up to a total of over 170 sculptors.
Art-Deco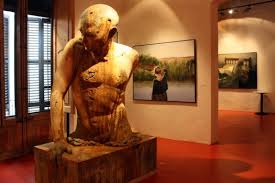 Event for children
Casal d'Estiu al MEAM Investigant els Misteris de l'Art
3 – 6 years old. 7 – 12 years old. 27 June to 9 September. 10:00 – 14:00 – 125€/week
Resolve mysteries and discover a former palace, sculptures, paintings through many games. More information about the program here.
Contact: infantil.primaria@meam.es o a info@caligramabcn.com
Activities 
7, 14, 28 July. 4, 11, 18, 27 August. 1, 8, 15 September at 18:00. 24€ (admission to museum, show, wine and food)
Modern Art and Flamenco offer a magical performance. Tangos, seguiriyas and sevillanas… Have a drink, snacks and enjoy an amazing dance shows in this authentic 18th century palace.
Performers: Carolina Morgado (dancer), Rafel Bueno (singer), Xavier Luque (guitar), Jose Manuel Saucedo (guitar).
Concerts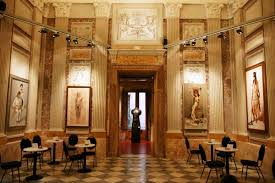 Blues with: The Gumbo Blues Duo (Gran Canaria). Friday 8 July at 18:00.
Blues, dixie and swing with: The Dry River Stompers. Friday 15 July at 18:00.
Concert of dobro, swing & jazz with: Henrich Novák (Slovakia) & Lluis Gomez Band. Friday 22 July at 18:00
Blues & Jazz with: Marc Ferrer Trio. Friday 29 July at 18:00
Chicago blues with: Rob Stone (USA). Friday 5 August at 18:00
Rockabilly, blues & swing with: Atomic Leopards. Friday 12 August 18:00
Power blues with: Miguel Talavera Trio. Friday 19 August at 18:00
Swing, jazz and other music with: Chino & the Big Bet. Friday 26 August at 18:00
European Museum of Modern Art
Barra de Ferro, 5
08003 BARCELONA