The Catalan capital is spoilt for choice when it comes to top seafood restaurants, thanks to its proximity to the Mediterranean waters. It is a fish-lover's utopia, and selecting your dining spot for the evening is no easy task. That is until you have discovered one of Barcelona's most impressive seafood eateries, Estimar Barcelona, nestled within the labyrinth of El Born's winding streets. Expect impeccably fresh produce, sublime flavours and flawless presentation, and dine alongside Barcelona's wealthiest locals and tourists.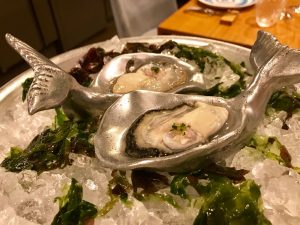 Andalusian owner and chef, Rafa Zafra, has a wealth of experience working in Spain's foremost restaurants, including the legendary El Bulli, La Hacienda Benazuza and Arzak. His supreme cheffing talent and meticulous attention to detail know no bounds – likewise with his amiability. Whilst naturally his priority is the restaurant's fare, he personally welcomes and bids goodbye to each of his guests, contributing to Estimar's intimate atmosphere.
Whilst perusing the menu, your waiter will walk you through their seafood spread exhibited at the restaurant's raw bar, adjacent to the chef's counter. From explanations of their more unorthodox offerings to personal suggestions tailored to your taste, Estimar ensures that all their customers are treated like royalty. They even allow you to select your preferred cooking method, whether that may be boiled, steamed, grilled or served raw as ceviche. Subsequently, watch in awe as Zafra and his expert team prepare your meal, as you enjoy a vintage from their extensive wine menu.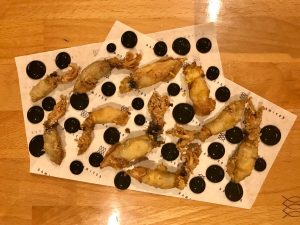 Estimar remains loyal to its roots by devising a menu predominantly featuring dishes to share, in line with Spain's penchant for tapas. Whilst some recipes are more familiar, namely their lightly fried anchovies or delicately breaded calamari, others are distinct to Estimar. Devil ray, goose barnacle, pan fried razor clams, monkfish tail and scorpion fish are amongst just some of their more obscure but outstanding menu additions.
However, it is their selection of grilled fish entrées which continue to impress their international clientele time and time again. Aside from the exquisite flavours of their langoustines, sea-bass, sole – the list goes on – Estimar insists on serving the entire piece of fish, attesting to the freshness of their produce. We recommend their simple yet divine tomato salad as the perfect accompaniment to your main, thanks to its subtle flavours and beautiful arrangement.
Estimar provides a unique opportunity to enjoy the faultless food and service expected of a fine-dining restaurant, yet without the pretentious portions and overly formal environment. Whilst Estimar's prices are somewhat higher than Barcelona's average, the experience provided is unparalleled in comparison to its seafood neighbours, and more than worth loosening your purse strings for.