Barcelona's Gothic Quarter is well known for its many restaurants. One of the best streets for tasty fast food is Carrer Escudellers, which is located towards the seafront end of La Rambla, on the left. This street has many good and diversified street food restaurants which are much better than the pricey tourist traps on La Rambla.
Street food: Made in Sicily
You'll find some of the best pizza slices in Barcelona here. Three euros gets you a (very) large and tasty slice of pizza. They also offer delicious calzoni which are sure to fill you up. This place is conveniently open from 9am to 3am and the staff are very friendly.
Por Estas Calles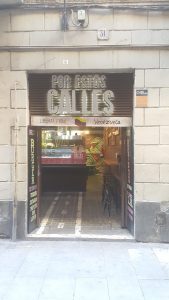 This Venezuelan restaurant specialises in a tasty variety of ot dogs at good prices.   The decoration is interesting, and you can read the menu on its walls of the place.  Service might be slow but the hot dogs are definitely worth the wait. Por Estas Calles is open from 1pm to 3am, so if you feel like a hot dog by night, this is the place to go.
Puglia in Tavola
Another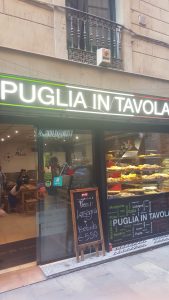 succulent pizzeria, and a very important rival for Made in Sicily. There are a lot of similarities between both pizzerias, the quality of the food is about the same, that is to say very tasty and made using fresh products. Just like in Made in Sicily, you will find more than pizzas. These include calzoni, panzerotti and other Italian specialities. The prices are also pretty low.
Macchina Pasta Bar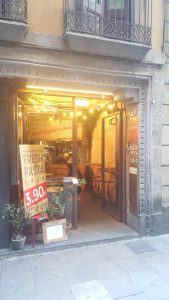 The Macchina Pasta Bar serve fresh and delicious pasta. You can choose the type of pasta you want, the sauce and many toppings as well. The concept is simple but the result is almost perfect. The drawback of this place is that if you have a ferocious appetite, one portion might not be enough as they are pretty small. Furthermore, the place is very busy so it takes time to get your meal, but the pasta dishes are definitely worth waiting for.