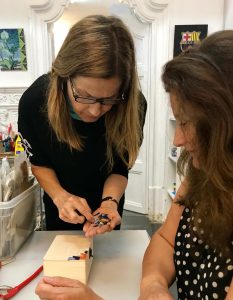 Surely inspiration behind any creative workshop in Barcelona, it goes without saying that Gaudí is the key icon of Barcelona and the city certainly prides itself on his phenomenal architecture. Gaudí's intricate work is admired by tourists from around the world, thanks to his ingenious use of the trencadís technique – the core of his impressive craftsmanship. At Mosaiccos, the charming Angelika will teach you how to mimic Gaudí's revolutionary architectural style in her quaint creative workshop, nestled away in the bohemian El Born neighbourhood.
Angelika's own stunning, handmade creations will greet you as you enter her workspace-cum-shop – most notably her colourful seahorse structure. Composed of various aqua coloured tiles, the seahorse attests to Angelika's sheer talent and skill with the trencadís technique. Not only that, Angelika's patient teaching methods ensures that you too are able to create a professional-looking and beautiful keepsake of your experience at Mosaiccos. We recommend opting for either a photo frame or jewellery box so that you can proudly display your finished work at home.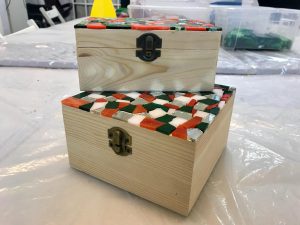 At the Mosaiccos creative workshop, all ages and abilities are welcome – simply come with an eagerness to try your hand at something new. This type of experience is the perfect way to keep the kids quiet for a couple of hours, as they burn off some steam with their creativity. What's more, Angelika's aptitude for languages is also a huge asset, as whether you're Spanish, English, French or German, she is able to provide instruction. If not, we like to think language should never stand in the way of creative flow!