33/45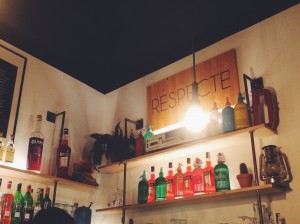 The hipster hub of El Raval, 33/45 is the perfect laid back venue to enjoy some evening drinks in their saloon full of mismatched armchairs, sofas and big comfy cushions, an  essential stop on a Raval bar crawl or an ideal venue to spend your whole evening. Always teaming with people, the atmosphere in 33/45 is incomparable and the interior is so quirky theres plenty to feast your eyes upon; from vintage fringed lamps to light boxes on the walls it is without a doubt one of the most fashionable places in the city. Gin and tonics make a hefty appearance on their menu, alongside some carefully selected cocktails, with the classic mojito taking pride of place, and of course their extensive tequila collection is highly recommended.
Betty Fords
Raval regulars fill this 50's clad bar every weekend, and at the top of Joaquín Costa, it's the perfect beginning or end point for your night in Raval. A small bar with a list of giant and slightly quirky cocktails like their orange twist on an espresso martini and excellent array of hamburgers on offer. This friendly and popular bar of course has a reasonably priced menu and a great atmosphere, so don't hesitate to pop in to this local hang out.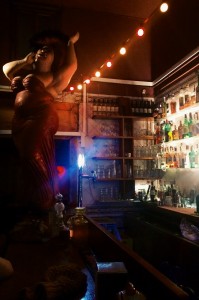 Beirut
Beirut bar is another important pit stop in El Raval, its rustic interior draped in fairy lights and its unique gigantic woman figurine on the bar itself is enough to attract customers. Its dark candlelight interior is extremely charismatic, and its Parisian undertones transports you somewhere else. Wooden low tables, bar seats and high tables means this small bar is always full of people and its not hard to see why. Not only does eccentricity shine through in their furnishings but also in the atmosphere and the staff who work there. What's more the drinks are very fairly priced with mojitios cost just €6 with special selection of flavoured mojitos such as passion fruit and watermelon are just €7. Moritz beer costing less than €2 and wine under €3.
Dostrece
Open since 2003, Dostrece commands a corner in Raval which has a great food menu and an even better cocktail menu. The restaurant is always busy and when the sun sets the bar gets even busier, with a fabulous music playlist and a great Moroccan vibe inside, with large windows and lots of open space, its not hard to see why Docetrece remains busy until it closes its doors at 2am.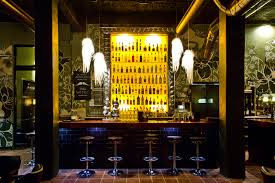 Marmalade
Marmalade offers something a little more on the classy side, with plush interior in the form of chandeliers, feathers and red velvet chairs you wont find any skateboarding hipsters in here. An ideal destination for some sophisticated cocktails to begin the night before it perhaps becomes a little out of hand. But Marmalade stands above their rest in terms of cocktails their endless list of lavish drinks which are always created to perfection by their passionate bartenders, who even been said to make drinks which aren't on the menu to tantalise your taste buds. Their boozy rouge berry cocktail is an explosion of raspberry goodness and their white Russian always hits the spot.