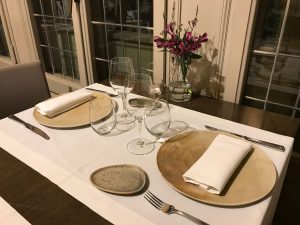 Boasting an enviable location adjacent to the exclusive Passeig de Gràcia, El Principal Del Eixample is a faultless choice to celebrate a special occasion in the Catalan capital. It is housed within a charming stately townhouse, in the heart of the Eixample neighbourhood, with a beautiful indoor courtyard – a picturesque setting for an al fresco meal or refreshing cocktail. Its fusion of local fare and Mediterranean cuisine, with a contemporary twist, allows this elegant eatery to emerge amongst its stylish neighbours, and leave a lasting impression of contentment and joy.
The ingenious talent behind El Principal Del Eixample is Joan Ferré, whose unparalleled expertise and experience is evident in his carefully devised menu. Ferré meticulously blends traditional flavours with innovative ingredients to create food of supreme excellence. The key to his success stems from his scrupulous attention to the minutiae of all his dishes, and dedication to working  solely with local and seasonal market produce.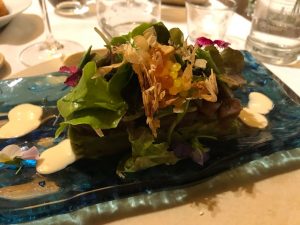 Perhaps most typical of Catalan cuisine is their range of introductory tapas dishes. From deliciously warm ham croquettes, oozing a rich and creamy bechamel filling, to delicately rubbed pan con tomate, tourists and locals alike can safely assume the presence of regional favourites amongst more experimental options. Their starters largely consist of tempting seafood concoctions, from lobster in "salpicón", tuna tataki garnished with caviaroli to scampi ravioli served with toasted almonds and coral sauce. That said, their menu will equally tempt carnivores, thanks to their impressive selection of meat-based culinary offerings. Their hare rice puts an avant-garde touch on an ordinary paella, in a similar way that roasted kid shoulder is an interesting alternative to customary red meat.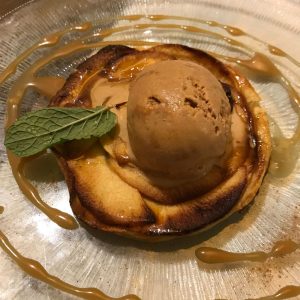 Priding themselves on healthy and flavoursome food at cordon bleu quality, that is not to say that El Principal Del Eixample do not know good desserts. Their crisp puff pastry tart with finely layered apples, topped with heavenly toffee ice cream, comes highly recommended. Alternatively, for the chocolate fiends amongst you, their rich and decadent chocolate coulant cake is an excellent choice, especially when swirled in the accompanying raspberry coulant, for that kick of tangy sweetness.
This essential haute cuisine establishment is also renowned as an event venue, commonly used by fashionable city locals for weddings, celebrations and business conferences. What better way than to mark your special day than with El Principal Del Eixample's impeccable food, flawless presentation and accommodating staff.