'You are what you eat', or so the age-old aphorism tells us – the implication being that we should consume the best food possible to ensure optimum fitness. Many people espouse that the healthiest cuisine is organic, providing the most desirable vitamins whilst also yielding the richest flavours. Amongst the adherents to this belief is renowned Austrian chef, Rudolf. He offers you the chance to savour a seven course meal, made from only the highest quality ingredients in his own apartment, via WithLocals.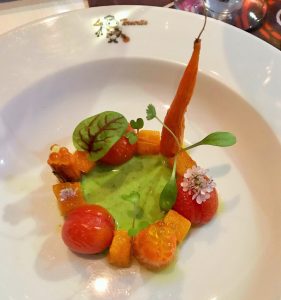 Whilst the concept of eating a restaurant-standard meal in the chef's home may seem a little peculiar at first, you will quickly realise the many advantages it provides. For one, Rudolf introduces each plate with a short description of its origin, recipe and manner of cooking. You are then at liberty to ask any questions you might have whilst he refills your wine glass with a suitable pairing. In between courses, feel free to wander through to the kitchen for a chat and to observe the meticulous preparation that goes into every morsel. Alternatively, remain at the table and converse with your fellow diners on the immaculate presentation of each dish in mutual appreciation.  
Working from the comfort of his own kitchen, Rudolf is able to demonstrate his incredible cooking potential by devoting hours of his time to his diverse menu. Spectacular examples of his talent include fresh river trout, which arrives at the table with each fillet still smoking in its own herbal infused jar. Another is the bouillabaisse soup with rockfish caught in the Mediterranean, a light yet meaty starter that will whet your appetite for the remaining courses.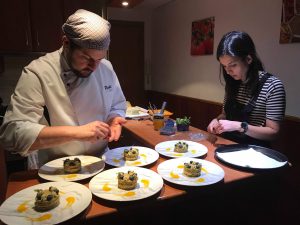 Not only is the experience itself a unique one, but the style of cooking is also novel. Having trained in his native Austria, and worked in Switzerland, Liechtenstein and Spain, Rudolf has a distinct and memorable style which blends Mediterranean favourites with northern European specialities. His adaptation of the Catalan favourite, croquettes, by creating a liquid chicken interior is a new improvement on a classic recipe.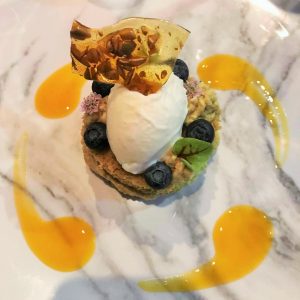 The domestic setting also offers a more intimate, casual ambience to the evening than any restaurant can, and Rudolf and his charming wife, Carmen, will ensure you feel at home. Indeed, by the time you leave, you will no doubt be under the impression that you have just enjoyed a fantastic meal at a soiree hosted by a close friend. Even better, the careful selection of ingredients from the freshest local produce available, and the homely style of cooking results in a dinner that you won't have to feel guilty about eating! Buen provecho!