As you walk through Barcelona's labyrinthine streets, passing thousands of quaint Mediterranean apartment blocks, most people would begin to wonder what's inside. Many people may also be curious to know what Catalan families eat, how they live and be interested to hear their opinions. Eatwith offer this unique opportunity, giving tourists the once-in-a-lifetime chance to spend an evening dining and socialising in the home of a friendly native, such as Isabel.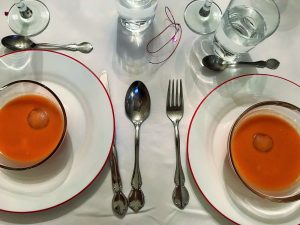 Isabel is a charming and charismatic hostess who will welcome you into her beautiful apartment in Sarrià-Sant Gervasi, one of Barcelona's least touristy central neighbourhoods. Unlike many of Barcelona's flats, Isabel's is light, spacious and modern. It also has a large terrace overlooking a peaceful courtyard – the perfect spot to sip her homemade sangria and catch some rays.
Depending on your booking preference you may have Isabel all to yourself (the minimum group size is two) or you may also get to meet up to nine other inquisitive diners. The experience attracts a range of people from all over the world, united by their curiosity and a desire to learn about Catalan culture. During the preparation of the paella, you can join Isabel in her kitchen to learn and observe how to make this world-famous dish. Besides being an attentive hostess and an affable companion, she is a marvellous cook and an excellent teacher who will make sure you have the recipe memorised by the time you leave.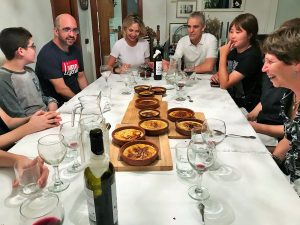 Ideally suited to catering for guests, Isabel's reception room has a huge dining table where you will be treated to classic Spanish dishes. Your starter is likely to be a refreshing serving of gazpacho – a cold soup hailing from Andalucia – and undeniably of top restaurant quality. To replace your appetizer of sangria, carefully selected local wines.will be served; vintages from the nearby Penedès or Empordà wine regions. The pièce de résistance is of course the magnificent paella de Isabel. A versatile meal, paella can be made with a range of ingredients, from shellfish including cuttlefish or prawns, meat such as rabbit, chicken or pork, and seasonal vegetables. This allows for any dietary requirements to be catered for without altering the main course.
For your third and final course, Isabel will treat you to every Catalan's favourite dessert: crema catalana. This is the regional variety of the creama brulee and a delicious light treat for those with a sweet tooth. Before serving however, Isabel has a final trick to teach you in the kitchen which involves heating a metal plate and creating a great deal of smoke!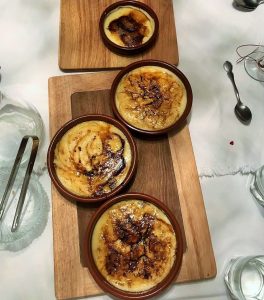 By the time you leave Isabel's elegant home, you will have enjoyed and learned how to make your own archetypal Catalan homemade dinner. Any burning questions you may have had for a genuine local resident will hopefully have been answered and what's more, you may well have made a few friends too!