Shôko is well regarded in Barcelona as both one of the top restaurants and most glamorous nightclubs. A metamorphism occurs every midnight when the seaview eatery becomes a party hotspot, but by day and by night, the establishment maintains a lively, bustling atmosphere, popular with tourists and locals alike. The kitchen at Shôko fuses the very best flavours of Asian and Mediterranean cuisine, to create an impressive and distinct menu. There are few places in Barcelona where you can find refreshing gazpacho soup entrées alongside traditional Japanese sushi, and none where you can also admire the Mediterranean coast whilst you eat.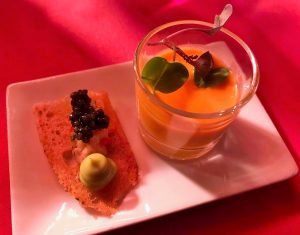 Both Spain and Japan share a common love of seafood and naturally, these feature heavily in Shôko's plethora of options. Find all your favourites, such as salmon nigiri, delicate vibrant uramaki rolls and fresh tuna tataki, delicately drizzled with teriyaki sauce. Alternatively, peruse the extensive paella menu until you find your ideal combination of mussels, lobsters and cuttlefish. But, whilst the names may be familiar, the unparalleled vigor of the flavour will leave you breathless. The quality of the ingredients used and the expert preparation involved in each individual morsel is rare to find outside of East Asia. Such a unique combination creates a healthy, seafood-based menu drawing from some of the world's very best traditional foods.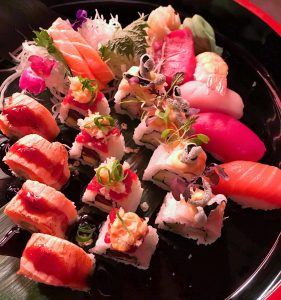 On the other hand, for those with an aversion to all things ocean-born, the restaurant nonetheless encompasses a broad range of meats and vegetable-based dishes. Tapas options include the world-renowned patatas bravas, and ham croquettes – Spanish favourites to line your stomach before a big night ahead! Alternatively, the wok plates encompass a range of crunchy veggies and succulent meat varieties, from tender veal to slow cooked duck breast.
What's more, the professionality of the chef's presentation at Shôko will lead you to believe you are eating a work of art, not merely dinner. The rich colours and intricate decoration are more akin to a modern gallery than a typical food platter, and accordingly, the flavours contained within are sublime. A dessert of their 'Texturas de Chocolate' is another sight to behold, requiring two chefs to present it before your eyes at your table. You may be forgiven for hesitating to eat some of the courses, for not wanting to disturb the exquisite designs.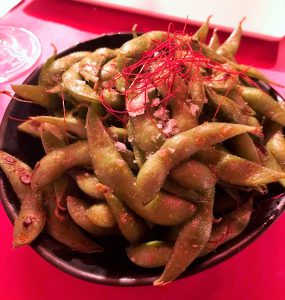 Some people aver that a sea breeze helps build a hearty appetite and you simply cannot find a location much closer to the sea than Shôko. The dining area is practically on the sand itself, sandwiched between other restaurant-cum-clubs along the Port Olimpic strip. This results in a dynamic and lively atmosphere around the clock, by either sunseekers or partygoers. The restaurant is therefore accommodating to all tastes and attitudes, and if you stay long enough you can dance off the calories in one of Barcelona's clubbing gems.