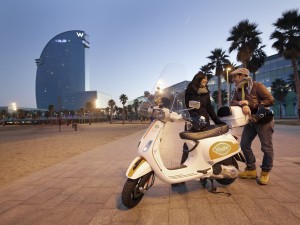 As a holiday destination, Barcelona has it all. This forward-thinking Mediterranean city is an oasis of culture and tradition. Internationally renowned for its Modernist architecture, which is crowned by Gaudí's masterpieces such as the Sagrada Família – the world's only Modernist Basilica, Park Güell – a contemporary Eden of landscaped gardening, quirky features and incomparable views, and the fairytale Casa Batlló on Passieg de Gràcia.
Barcelona's city centre dates back to Roman times and beyond, with fragments of the thick wall that provided its defensive fortress still visible next to the Cathedral, along the back streets of Correu Vell, and even as the basement walls of a few bars in Carrer Ample.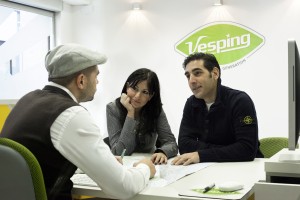 Barcelona's gastronomy is also worth mentioning, as this brings together a delicious variety of typical Catalan flavours sourced from the nearby countryside, mountains and sea. As the most international city in Spain, fusion cuisine abounds, with Middle Eastern eateries, oriental, Latin American and European chefs interpreting their own traditional dishes within the context of 21st century Catalonia.
And of course, there's the sea. From beaches to boat trips, and dreamy sunset cocktails to the sparkle of moonlight on the distant waves. What was intended to be a short introduction has already gathered a momentum of its own. Yes, Barcelona has it all.
When we caught up with Vittorio Cicero, founder of Vesping scooter hire and tours, his deep passion for Barcelona is clearly matched by a passion for showing visitors the very best of the city. There are many ways to discover a city, and Vesping offer options to suit all tastes and personalities. The only requirement is that you have previous experience riding a scooter and a valid driving license. An obvious advantage facilitated by this mode of transport is the ease with which you can move around the city, nipping from one attraction and district to the next.
You and GPS
If you're the easy rider type who prefers to discover Barcelona on your own, you'll love the Vesping GPS option. Top sights and essential hotspots are all clearly marked, and you can create your own route from one place to the next. And of course, when it's time to return to base camp, hit "home", and you'll be guided back. Vittorio showed us the GPS, and what really stood out is that it's loaded with exquisite insider tips. You'll find restaurants and bars favoured by locals, where a quality meal in a friendly ambience will be as generously priced as it is enjoyable.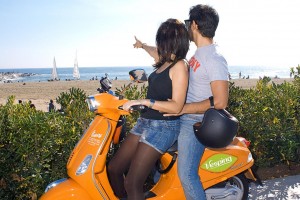 Daily Guided Tours
Share your Barcelona experience with other visitors and let the experienced Vesping crew take you on a route that will exceed your expectations. Yes, you will visit La Rambla, Camp Nou, Tibidabo
… but you'll also connect with the hidden Barcelona, the living, breathing soul of the city. The Vesping team want to know what your interests are – street art? Architecture? Literary haunts? And they'll weave these details into the tour like the icing on an already exquisite cupcake.
Exclusive Tours
Treat yourself and your group to a private tour, with the flexibility of following your whims and interests around the Catalan capital. Fancy an ice-cream? The Vesping team can take you to the only Italian ice-cream parlour in town where they make their own. Or perhaps you're in the mood for some tapas? You can be sure that only the freshest and most authentic dishes will be served at the table they bring you to.
Whilst it's certainly true that Vesping rent scooters and organise tours, the essence of this company that has made it soar as a success in the last five years is the personalized attention given to each client – or should we say friend? If you'd like an open and welcoming "base camp" contact in Barcelona, which goes beyond a tour or rental, then get in touch with Vesping and live this different kind of Barcelona experience for yourself.
The Vesping office is next to
La Sagrada Famila, in Passatge Simó 24.
Tel: +34 93 66 77 877
www.vesping.com