All gastronomes will appreciate the time-consuming process of carefully selecting restaurants for an upcoming city break. You want places that tick all the boxes – local eateries with authentic flair, a vibrant atmosphere, and of course, top-notch food. Yet, perhaps the biggest problem is squeezing them all into your trip. Thanks to the unique and innovative concept of Barcelona's Walking Dinner, you can say goodbye to such concerns, with its ingenious notion of three courses in three different restaurants.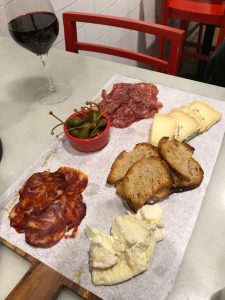 Walking Dinner offers a true insight into the city's culinary scene with each stage of the meal enjoyed at one of the Barcelona's finest foodie gems. All courses are accompanied by your choice of beverage, may that be a crisp white, full-bodied red or a sparkling cava – a regional treasure that the Spanish would say goes perfectly with everything! What's more, as you roam from one tasty bistro to another, you will pass several of the Catalan capital's most fascinating sights, so that you can simultaneously satisfy your rumbling stomach and curious mind.
Your culinary journey will begin at La Cuina d'en Garriga – a self-styled delicatessen-cum-bistro, just a stone's throw away from the exclusive Passeig de Gràcia. Whilst this quirky eatery excels on so many levels, they particularly pride themselves on their exceptional array of local produce, namely their broad selection of local produce and seasonal vegetables. Their beautifully presented sharing board of finely-cut charcuterie and rustic cheeses is the pinnacle of artisan craft, and perfectly compliments their extensive wine list. Not to mention, its intimate and homely setting makes it the idyllic spot to enjoy your starter with a loved one.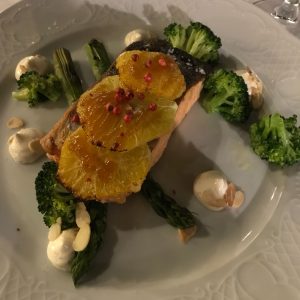 As you continue your epicurean experience, you will stroll past the remarkable Casa Batlló – an exemplary model of Gaudí's awe-inspiring architecture. This is an unmissable sight, as is the location of your main course, the iconic and picturesque Plaça Reial. Oozing character and charm, this quintessentially Mediterranean plaza is nonpareil for alfresco dining. Fortunately, Walking Dinner have elected Restaurante Italiano Rossini for the main course, thanks to its tantalising menu of Italian and fusion cuisine. Their special menu designed for the guests of Walking Dinner offers a refined selection of their most popular dishes. The grilled salmon, served with a side of delicately seasoned asparagus and a tangy citrus yoghurt is highly recommended, and is a truly sensational addition to the evening.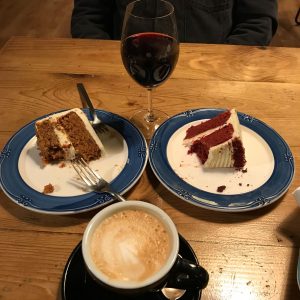 Last but by no means least; dessert – some would even argue the most important part of a meal!. An amble through the quaint Gothic quarter and the stylish El Born neighbourhood will bring you to your final destination for the evening, Farigola. Its inviting and relaxed atmosphere is a welcome place to unwind at the end of an evening, over a slice of divine homemade cake and a warming cup of coffee (or another glass of vino for the troopers amongst you). Each day presents a new and enticing range of sweet treats, so you'll have to wait and see what feel-good delight they have in store for you.
You're probably wondering the price tag of an evening consisting of exquisite food, fine wine and sightseeing. Walking Dinner offers this experience for a modest €44.95 per person, and we can assure you that its perfectly balanced combination of elegance, authenticity and originality is worth every céntimo. It's no wonder the walking dinner phenomenon has taken the city by storm.