Biking down the biggest mountain in Barcelona might seem like an extreme sport, enjoyable for adrenaline junkies and experienced cyclists only. However, with Descent Barcelona, it is instead a magnificent and relaxing ride through stunning landscapes with extremely friendly and helpful tour guides. It doesn't even matter if you haven't ridden a bike in years, Descent's number one concern is the enjoyme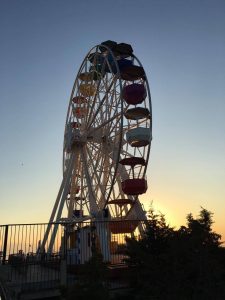 nt and happiness of their customers, and so long as you can work the gears, you're guaranteed to have a magical time.
For our tour, we met Ignasi and Anna, our Catalan native guides for the morning, bright and early at 7am in Plaça de Catalunya. (Although, if you prefer, there is also an option to be picked up from your hotel or apartment by the accommodating Descent Barcelona team). From the square, we were taken on a short drive up to the summit of Tibidabo, entertained on the way by Ignasi and Anna's sparkling wit, apparently impervious to the ungodly hour.
At the top we were kitted out with specialised mountain bikes, including front suspension and 27.5" wheels; compulsory helmets (safety first); and optional padded gloves (which after two hours of cycling, turned out to be an essential item). Saddled up and feeling like Tour-de-France competitors, we warmed up with a leisurely pedal to one of the best viewing platforms in the Catalan capital. Unfortunately for us, we were greeted with a blank canvas of cloud that had not been burned off by the sun yet, but once again the jokes were thick and fast from our charismatic guides and we soon set off downhill.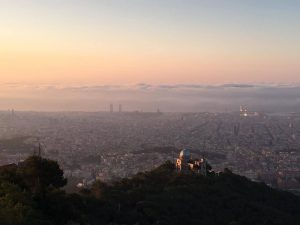 As someone who tends not to be an early morning riser, it was extremely refreshing and invigorating to be outdoors, and exercising so soon after dawn. However, fear not, the ride is almost entirely down a fairly gentle incline and the road surface is ideally suited for the thick tyres of our specialised bikes. Instead of expending energy pedalling, you can just sit back and watch the beautiful city of Barcelona materialise in front of you as you descend, in our case from the clouds themselves. Small snatches of the incredible sights, glimpsed between trees as you pass makes you appreciate the scene to a far greater degree than standing still. Nevertheless, certain locations on the mountain offer particularly spectacular opportunities to overlook the famous city and our guides selected the very best for us to pause at, take photographs, and hydrate ourselves.
Whilst on the bikes, we were able to converse with one another and the guides easily. The route is friendly to biking beginners and everyone rides at a comfortable speed. Time on the other hand, flew by and before we knew it we were 15km from Tibidabo and in one of the most picturesque areas of the city: Sarrià-Sant Gervasi. Here we stopped for a well-deserved coffee and snack, whilst seated in the quaint square outside the barrio's townhall. This neighbourhood has a more typically Spanish feel to it than the more central areas of Barcelona, in part because there was not a tourist or expat to be seen. Our guides conversed equally easily with the group and with locals they knew, switching seamlessly from one language to another, and continually entertaining us with information about the area, stories from their own lives and general observations about Catalonia and Spain.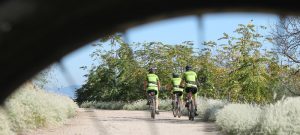 We finished breakfast at our own pace, with no sense of urgency or hurry, and completed the last 5km of the trip, weaving our way through Barcelona's bustling streets, once more expertly guided by our experienced chaperones. During this final leg, we stopped frequently at traffic lights giving us time to take in the sights and observe a less-frequently visited part of the city.
Regrettably, all good things must eventually end and Descent Barcelona was no exception. It felt as if we had spent the morning with two close friends and we were extremely sad to say goodbye to Ignasi and Anna who had been consistently full of energy, enthusiasm and genuine warmth. Fortunately, we left with treasured memories of a superb sunrise, observed from a bird's-eye view and many laughs along the way, and not to mention the superb photos we had taken from the optimum viewing points. Undoubtedly, Descent Barcelona is the best way to start your day.