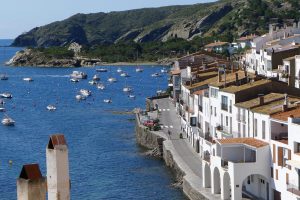 Tiny, hidden bays line the coast of this coastal town in Costa Brava in the province of Girona. Its incredible landscape of rocky coasts fringed by beautiful beaches and coves makes it a destination worth visiting, especially during the Mediterranean summers.
Cadaqués was a favorite of both Picasso and Salvador Dalí, who were attracted to the incredible scenery of this sleepy town. Spend just a few minutes in this former fishing village and it is not hard to see why it is loved by so many and appreciated by artists of such prestige. The crystal clear waters made complete by incredible light and sea breezes is a favorite spot for artists and weekenders from Barcelona and nearby Spanish towns.
Although its small population of 2000 makes for a quiet town for most of the year, this number grows drastically during the summer months. Despite its popularity among tourists, the town has managed to retain its charm and authenticity. It offers plenty of restaurants and bars to make your day trip to this charming and breathtaking village worth your while, and even a number of hotels if you end up wanting another day.
Salvador Dalí's House
Among one of the most versatile and prolific artists of the 20th century, Salvador Dali was known and loved for his flamboyant personality as well as his iconic paintings.
Around the bay is Port Lligat, a small village located in a bay on the Cap de Creus peninsula. Here you have the chance to visit the home of famous artist Salvador Dali. Wander around the old living quarter and discover art galleries and shops galore.
Platja Portlligat
Cap de Creus
The Cap de Creus is a peninsula shaped nature reserve, marked by the eastern end of the Pyrenees. There are a number of walks offered both north and south of peninsula with incredible views across the bay to France. The views of the coastline lined with cliffs and hidden cliffs are sure to leave a lasting memory in your mind.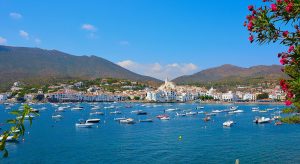 Boats/Walking in Cadaques

A couple of companies rent out boats in Cadaqués for a unique way to explore the bay and beyond. Dusk is a beautiful hour in Cadaqués, and we suggest making time to watch the sunset over the bay. In addition, the walks and hikes offer a real treat. There are plenty of hikes and walkways perfect for strolls, lined with plenty of refreshments to help you beat the intense summer heat.
Boat hire available from Cadaquesrent.

Where to eat in Cadaqués: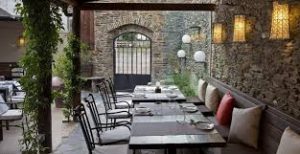 Compartir

Born in 2012, this popular restaurant offers dishes to share in the centre of the table. Located in the historic centre of Cadaqués, the large outdoor patio attracts and welcomes visitors from near and far. Composed of both traditional and contemporary dishes, this restaurant provides a wonderful ambience, unique flavours, and memorable presentation.
Riera de Sant Vicenç

This gem in Cadaqués offers fantastic service and quality cuisine in a quirky and intimate environment. All dishes are made with local ingredients. It's a nice place to stop in for a midday snack or a delectable dinner. In true Spanish style, Casa Anita offers some of the best tapas in the whole town, so be sure to stop in- you won't regret it!
Carrer Miquel Rosset, 16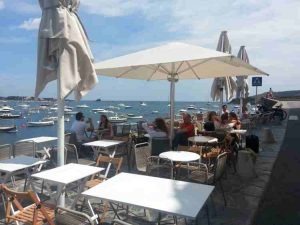 Talla
Great food, great location, and great service, Talla offers traditional Spanish and Mediterranean dishes that will not disappoint. A favourite of locals and tourists, each dish is simple but exquisite. The well dressed, well-informed staff are eager to assist you in choosing from the small but varied menu, to ensure that your lunch or dinner is sure to satisfy.
Riba Pitxot, 18
How to get there:

Approximately 2.5 hours from Barcelona, Cadaqués is easily accessible by car. If you are interested in public transportation, however, trains run regularly from Barcelona and Girona to Figueres every day. Once in Figueres, visitors can take a bus to Cadaqués, simply cross the station square and you'll see the bus station where you can buy tickets through the company Sarfa. The bus trip takes around one hour and costs around 6€ per person.