Chocolate is something of an addiction for many people, but for others it is a career, a business and an art. One such individual is Peter at Çukor, Barcelona, and he offers anyone the chance to taste the delicious life of a chocolatier for a few hours. Çukor is both a sweet factory priding itself on the manufacture of unique artisan chocolates and candies, but also an academy for the education of those with an interest in sweet-making.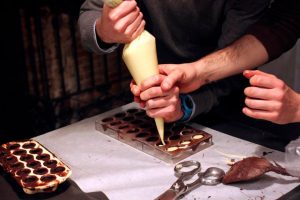 All ages are welcome in the workshop beneath the main shop floor where an immense table serves as the stage for captivating lessons in candy making and design, taught in either English or Spanish. Classes are also offered for children, allowing parents the pleasure of letting them go wild without fear of their kitchen being destroyed in the meantime! For more serious chefs, simply allow your inner creativity to take over your hands for a couple of hours and you will walk away with a trove of delicious, and no doubt aesthetically dazzling, guilty treasures. The trickier bits of the cooking process are thankfully taken care of for you by Peter and his assistants so that his pupils can devote all their energy to innovation.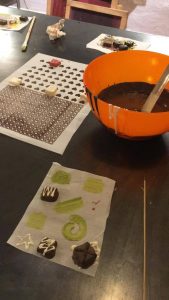 The class is divided into two stages. In the first, everyone learned how to make stencils which can later be used to add individuality to your own design. Huge bowls of melted chocolate, in a variety of colours, ranging from white, milk chocolate and dark, but also red, green, yellow and blue, were then brought out. Everyone subsequently dipped cubes of Turkish delight into the bowls, covering the sticky sweets with a thick coating of chocolate, before decorating each piece (with varying success).
The second phase involved using templates with which to produce solid chocolate bites. More colourful chocolate was at hand to add uniqueness and flair to every single piece, and it was easy to bring out your inner Oompah Loompah and really get the creative juices flowing! All the tools and techniques are demonstrated first so all you have to do is choose whether to go for a traditional Belgian look or a more avant-garde concoction of colours and stripes, and then wait to see how it turns out at the end.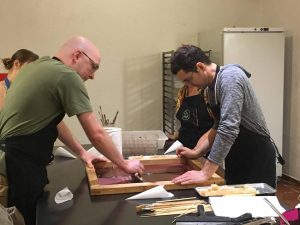 Designing and decorating your own mouth-watering snacks is both rewarding and an education. You will learn all about the delicate intricacies involved in the preparation and production of quality confectioneries as Peter talks you through the various stages, letting everyone try each part for themselves in the making of their own sublime treats. Seemingly complex adornments seen in the decoration of upmarket chocolates and other sweet foods will become easy for you to imitate yourself, and consequently amaze your family and friends with.