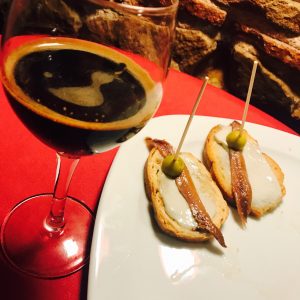 Finding this hidden gastro bar
Situated in the heart of Barcelona's old-town district, mere seconds from Plaça de Sant Jaume, Craft Barcelona is certainly something of a hidden gem. You can find it tucked away up the small side street, Carrer Paradís, and like many places in the city, the gastro bar is far larger than you might initially expect.
Explore its three floors
The ground floor is occupied by a typical Catalan cervecería setting; a busy bar contrasts with cosy, intimate corners for you to sit and enjoy your caña. An American tourist, taking a break from exploring the Gothic quarter, does not look out of place beside the locals in this welcoming area. This is just one of the many appealing aspects of Craft Barcelona: it attracts people from all walks of life, residents and tourists alike, united by an appreciation for full-bodied drinks and pleasant company.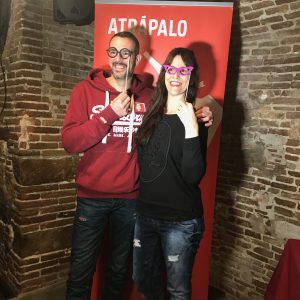 If you decide to prolong your stay (as you undoubtedly will), why not head down to the basement, otherwise known as 'La Cova'. Never mind the subterranean setting, high ceilings and open spaces make this a charming location, and somehow drinking in a converted beer cellar makes the artisan beer taste even better (if possible!). Alternatively, if you're seeking a location in which to host an event, El Refugi on the top floor is the ideal place to reserve for you and your friends to let loose.
Events & entertainment
Craft Barcelona frequently makes use of La Cova's space to offer a diverse range of events, from live music and stand-up comedy, to readings from poets and other literary buffs. Jazz, pop, rock and tango are amongst just a few of the genres that can be regularly heard here – and all for free entry too. Enjoy the sounds of up and coming artists, with an eclectic mix of authentic Catalan acts, interspersed with English comedy and other international talent, namely blues musicians and folk music.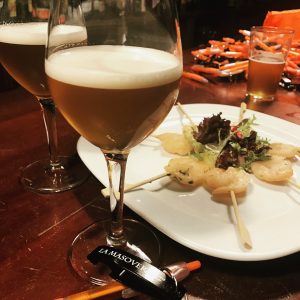 A wide selection of artisan beers and gourmet dishes
Of course, the main attraction of Craft Barcelona is the beer itself. Most are brewed locally by enthusiasts and hobbyists with the aim of creating something exquisite, rather than making a profit. Naturally, plenty are imported in from outside of Spain also. The extraordinary variety of beers ranges from dark creamy porters to sharp, citrus-infused IPAs, and to accompany these enticing beverages, an equally appealing range of tapas dishes is also on offer. Like the beer, the tapas largely consists of traditional Spanish recipes, such as Basque pintxo combinations, but if these don't take your fancy, you can also enjoy a variety of other exotic snacks, such as sautéed langoustine lard with garlic and parsley, or their recommended crunchy chicken.
A delicious speed tasting experience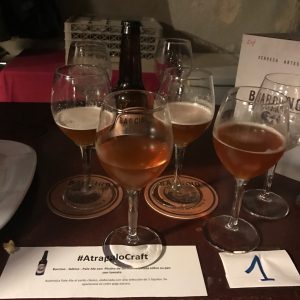 A speed tasting evening, hosted recently by Craft Barcelona, really demonstrated the gastro-bar's passion for their beverages. Everyone was given a chance to try eight different artisan beers, presented by the brewers themselves, who provided detailed information about their creation whilst everyone alternatively tasted, listened, and asked questions. The brewers only had eight minutes to sell their product yet managed to cram an incredible amount of information in. If you wanted to know the exact strains of barley (or wheat) used in the manufacture, or the precise location of the water source added to the brew, this was the time and place to ask. Notwithstanding the supposedly restrictive timescale, the whole event was very relaxed and informal, with most of the brewers talking for much longer than the designated minutes and drinking as much as their audiences!
Perfect combinations
If you do not have the chance to attend another such tasting event, do not worry because the staff at Craft Beer have an extremely impressive knowledge regarding their stock. Every detail is at their fingertips and they can recommend a beer for quite literally every occasion. This is where the tapas dishes come into their own, as you can ask for the exact combination to bring out the flavour of both food and drink simultaneously. For instance, the Barcelona Rebel Day, a red ale brewed in Pamplona, goes well with goats cheese and walnut jam, or, if you're feeling more adventurous, the Lo Vilot, brewed in Cydonia with quince fruit, goes well with Craft Barcelona's curried marinated chicken skewer, and is designed to be consumed with a curry.
Even a connoisseur of artisan beers and ales will find something unexpected and refreshingly original here; though if you'd rather stick to Estrella, you can at least appreciate the great food, lively events and friendly staff.
Carrer del Paradis, 4
www.craftbarcelona.com