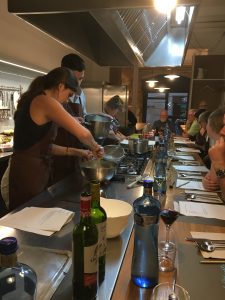 Looking to spice up your trip to the Catalan Capital? If you need a break from traipsing up and down La Rambla, and dashing around the city trying to squeeze in all the sights, look no further than Cook & Taste. Nestled away in the quaint Gothic Quarter of Barcelona lies the opportunity to add that special touch to your holiday: a cookery class with Cook & Taste. No matter how much of an experienced foodie that you are, their welcoming team endeavours to suit and satisfy every palate and, most importantly, uncover the secrets of traditional Catalan cuisine. Not to mention, as the original cookery school in Barcelona, you can be sure that you're in the hands of experts.
This hands-on cooking class is also offered with the addition of a gourmet market tour around La Boqueria or Santa Caterina Market- both only a stone's throw away from the central location of Cook & Taste. Both markets undeniably capture the city's essence with the rich culinary traditions of Catalonia apparent, yet their character and atmosphere are unique. The vivid colours of La Boqueria, frequently listed in the world's top ten food markets, combined with the hordes of eager tourists, neighbourhood certainly reflect the vibrancy of the city. Santa Caterina, on the other hand, in the picturesque El Born, is notably less hectic, but equally resemblant of a Catalan market. The trip to the market is made prior to the class, and allows you to enjoy the full experience of preparing a Spanish feast- from carefully selecting your fresh ingredients to inhaling the fusion of aromas from your final dishes.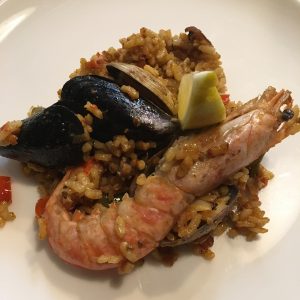 Cook & Taste's interactive cookery workshops allow you to master the art and technique of authentic Spanish cooking in half a day's work, and that is no exaggeration! The expertise, professionalism and playful character of the chef, in my case the lovely Assumpta, inspires confidence amongst the group to create outstanding results. With the aid of an insider expert, you will learn how to prepare and cook a tantalising menu of typical culinary gems from this region in Spain, allowing you to take the taste of the nation home with you. To begin, a spin on a classic recipe: a refreshing watermelon and beetroot gazpacho, followed by delicately roasted vegetables with a rich romesco sauce. For mains, you guessed it, an all-time favourite and crowd pleaser, seafood paella, made entirely from fresh and seasonal produce, all locally sourced, and not to mention seasoned to perfection. Last but by no means least, dinner was finished with a velvety crema catalana, that simply melts on the tongue, leaving you satisfied but secretly yearning for more.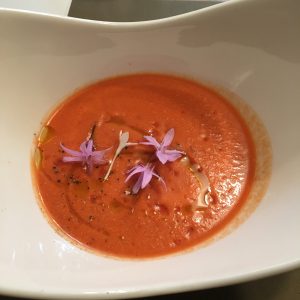 Possibly aided by a generous flow of wine throughout the evening, post-cookery class consists of an elegant and sociable evening dining with fellow foodies from all corners of the globe. The intimate size of the group is equally ideal for one-on-one bonding with the chef to ask any questions you may have about Spanish cuisine, or even the city of Barcelona itself. Either way, with Cook & Taste, you can enjoy the opportunity to quite simply cook and taste exquisite Catalan food, whilst mingling with friendly faces from all walks of life.