Moving to a new city can be a scary experience, especially if you don't know many people there.  This is doubly so for those of you who work alone, whether freelancing or some other job that requires a lot of solitary moments.  However, there is a solution for this: co-working.
If you're visiting Barcelona have brought work with you, or if you're on a business trip and staying in accomodation that doesn't provide the ideal environment for catching up on your work, a co-working space could also be a good option. Many offer desk space plus other specific facilities by the day or hour.
Created by others who also work by themselves or in very small groups, co-working generates the atmosphere of a small-to-medium-sized company.  While you may be doing something completely different to the person next to you, you're surrounded by others who are in the same position.  By creating this space, it can be much easier to develop friendships as well as increase your working productivity.  For those of you in this position coming to Barcelona, we've included a few places that use co-working at its finest.
Makers of Barcelona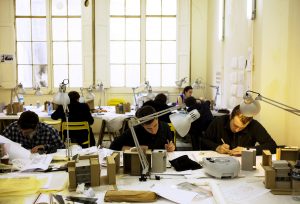 Makers of Barcelona, or MOB for short, was created in 2002 by Cecilia Tham, a newcomer to Barcelona who found herself in an unfamiliar place without knowing the language.  However, she strived to have a place that she and others like her, as well as locals, could call home both socially and professionally.  As time passed, MOB was formed and has becoming larger through the efforts of its team as well as its members.  MOB's philosophy is to create a community that is self-evolving, catalysing connections with people who otherwise would never meet. For more information about MOB, take a look at their website.
Garden Coworking + Atelier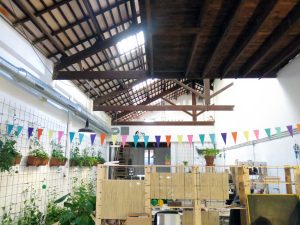 Another option for coworking in the city is Garden Coworking + Atelier in Gràcia.  While similar to what MOB has going, Garden focuses more on the natural feel of the workspace by staying true to its name and including plants and a wooden theme.  This more outdoorsy feeling is definitely a plus for some people, as well as giving them a common connection to the others they will be working around.  For more information on the Garden, check out their website.
Martillo Fine Arts Workshop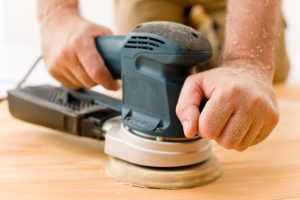 Like the others, Martillo is a co-working location that is meant for solo workers to join together and make connections; what makes it unique, however, is its emphasis on crafts.  Martillo has laser cutters, 3D printing, engraving, and whatever else you may need for your work.  It also offers various workshops on how to perform crafting exercises, such as learning to design graphic material and use art in work.   If you're craft-inclined, or want to be, visit Martillo's website.
Transforma BCN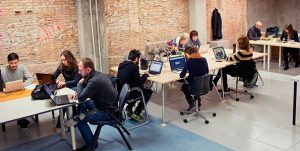 Last but definitely not least is Transforma BCN, located in the Eixample District.  Right in the heart of Barcelona, it is a great place for entrepreneurs and freelancers to get together and develop connections. Somewhat like Garden's idea, Transforma BCN wants to put its members more at ease.  They include a ping pong table, hammocks, sofas, a bar-restaurant, and more in their space.  This makes the co-working space feel more like home and helps facilitate not only the work but also the friendships between people and their co-workers.  For more information, visit Transforma BCN's website.